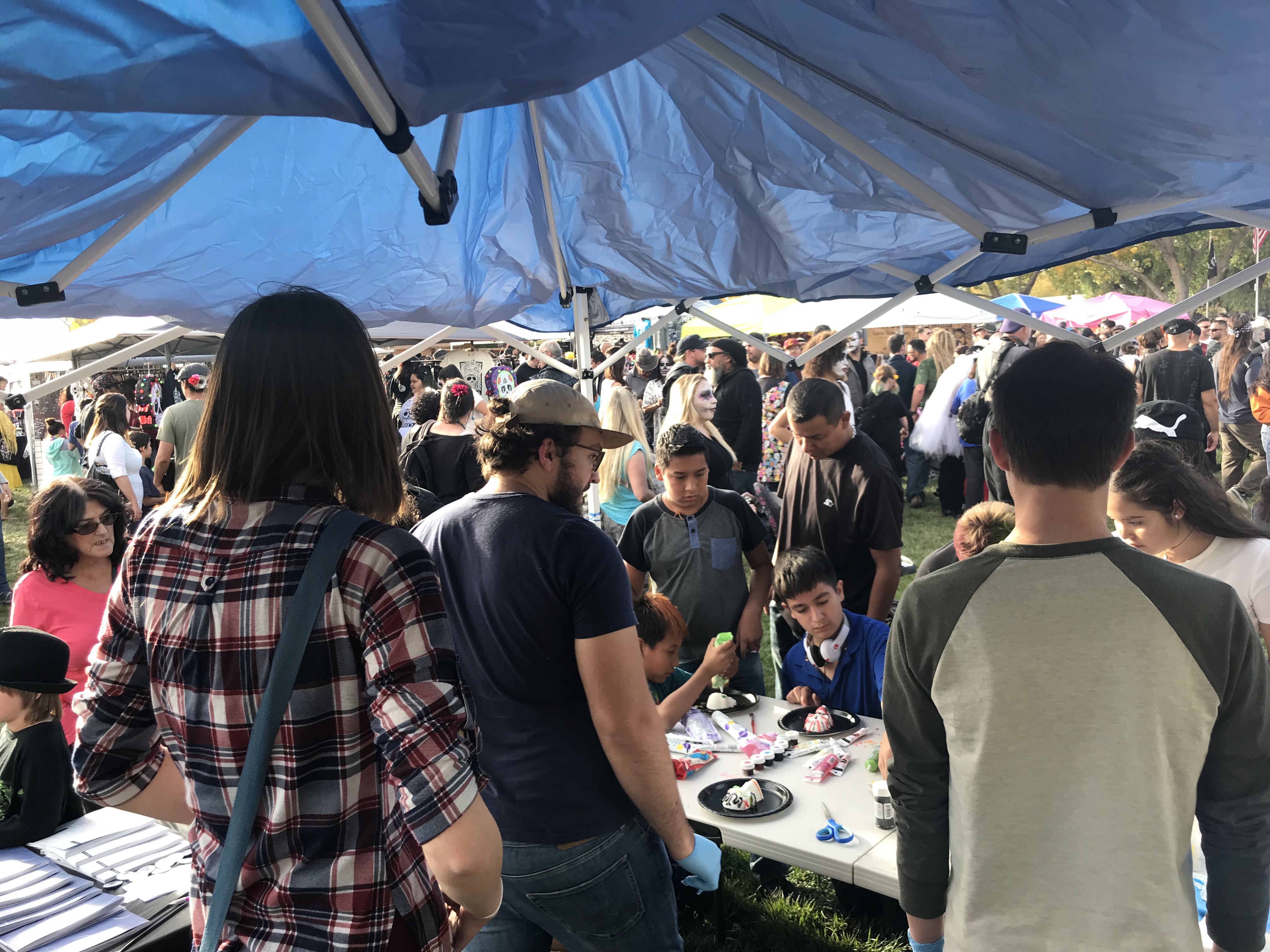 The Muertos y Marigolds Parade was full of energy on Sunday, November 5. Scribendi had a pretty sweet tent—that is, we sold plain sugar skulls and had edible paint, frosting, and sprinkles for people to use to decorate the sugar skulls.
The Muertos y Marigolds Parade is Albuquerque's celebration of Día de los Muertos, a holiday dedicated to celebrating and reconnecting with the deceased. Sugar skulls, which are traditionally made for Día de los Muertos celebrations, are clumps of sugar made to look like skulls.
Every sugar skull we sold was made by hand. Two days before the parade, Scribendi staff members gathered in a one of UNM's dorm kitchens, armed with two hair dryers, a will to work, and more than ten pounds of sugar. The process was time consuming, but valuable, and the recipe was simple enough.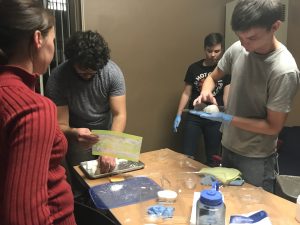 The sugar skull mixture, although it contained meringue powder and a pinch of water, was mostly sugar, and felt quite a bit like sand at the beach, only very sticky. After squishing the skulls into skull-shaped molds, we blew the hair dryers on them to speed up the drying process, then stuck the skulls in the oven.
Four hours produced a sufficient amount of sugar skulls, and we were ready for the big day.
The sugar skulls were most popular with families and young children, which made sense; it was a crafty activity, after all. The Smithsonian Latino Center's "Sugar Skulls, from the Day of the Dead Animation Short" says that sugar skulls are often given as gifts to children.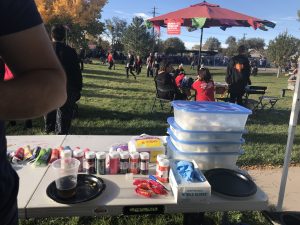 We sold five sizes: extra small, small, medium, large, and extra large. We ran out of mediums the fastest. One of the staff members, Heather Brock, noted that a lot of people ended up coming to our tables to decorate the skulls.
"Some of them (the skulls) are very colorful and some of them are well thought out and very beautiful and with interesting designs," Brock said. "Lots of color. That seems to be the trend."
By the end of the day, our tables were littered with smears of sticky colors and sprinkles of every size, evidence of sugar skull decorating well enjoyed and a job well done.
"I think that it's good that we're out here doing this in a public space and not just on UNM's campus because I think it really shows that we're willing to be a part of the community and interact with people in the community at an event like this," Brock said. "It gets the Scribendi name out there!"