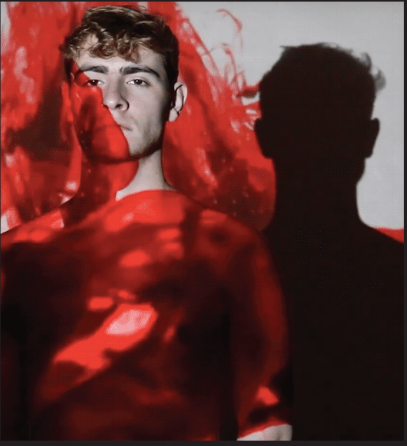 "media projections" by Nora Vanesky
The winner of Scribendi's annual WRHC Award for Open Media this year is Nora Vanesky, a third-year student at the University of New Mexico. She dabbles in many forms of art, including video art, on a regular basis.
"Media Projections" showcases Nora herself and a young man standing in front of a wall, alternating between them as images representative of the topics a narrator speaks on, including personal identity, pressure by society to conform to labels, and the glorification of violence and consumerism, creating a very striking tone with images of popular culture. I have asked Nora about how this piece came to be created:
What challenges, technical or otherwise, did you have in creating this piece?

I wouldn't say I had any inherent challenges when creating the piece that were any different than any other art one makes — Art at its core acts as a challenge to it's creator, and when making you find ways to push yourself in new directions to fundamentally grow as an artist in general. With this piece I definitely pushed myself into both using new tools — using a projector, sound, movement — but ultimately this was the first piece I ever created that I consider to be video art. Breaking out into a new medium was definitely exciting, and I'm so grateful for the experience and how it has pushed me to grow. 
Who, or what, is the message about staying whole and content despite external pressures aimed toward? Did you intend to provoke a specific reaction for your audience?
When I was making this I didn't really start with any intention for the piece – the message really formed at the end of making the piece when I put all the different components together. At the time it wasn't really a piece that I had intended to share with a larger audience, it was more just affirmations for myself and my circle of friends in response to greater issues going on at the time that I was frustrated with.
Is the motif of free-flowing red something you believe that readers will connect with, and if so, how?
I'm glad you found this to be an impactful theme within the piece! I think sometimes when making art, you easily fall into this sort of frenzy of creation — this was definitely something that at the time felt like it visually fit with the rest of the work without having any discernible purpose to the piece, but still felt necessary. 
Who is the other person in the video? Do any of the words or themes you projected upon have any special significance with them?
The other person in the video is my friend Justin. The words/themes/images projected with him are definitely ones he has connection to, but it was more just that I think we were going through a lot of similar issues with gender expression and sexuality at the time — so the projections were more representations of issues and the complexities of growing up in a time of heavy media than ties to specific examples or memories.
What is your creative process like?

I try to retain a sense of immediacy in my work – my usual process is without storyboard or script. I take time to let myself absorb the world around me and respond directly to this stimulus and visual inspiration to guide my ultimate work.
Are you working on anything right now?

Yes! I am currently working on a photographic series surrounding the quarantine, a multimedia sculptural self-portrait, and an ongoing virtual performance, among other things. 
How do you feel about being published in Scribendi, and getting chosen for this award?

I am so honored! This is my first year getting published, and my second year submitting. It's a huge honor, and I am so grateful that this opportunity exists for students. 
Why should students submit to Scribendi?
It's a great opportunity! I know I was most excited about expanding into a new community of makers, and getting more of my work published.