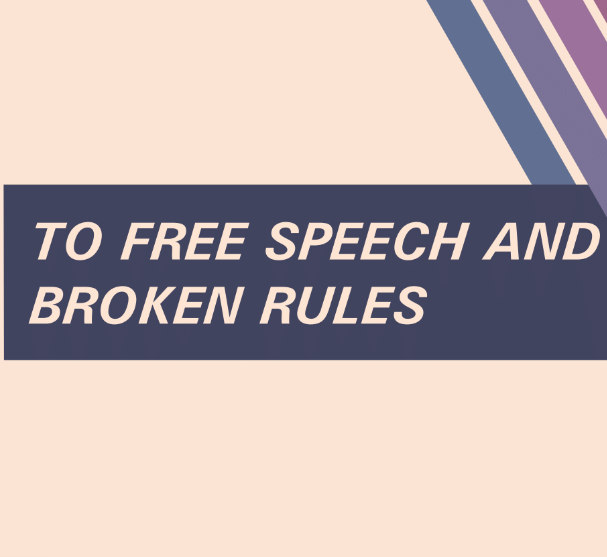 Another year, another Publications Fair come and gone! We had lots of fun letting people know about our magazine, rescuing hungry students with free food, and creating some art in real-time with our collaborative chalk mural. As we at Scribendi relax and plan our next opportunity to bring attention to student publications, I am thinking about two questions that seemed to be poised to enter into conversations anytime someone stopped by our tables.
"What is a literary magazine?" and the natural (if unspoken) follow up: "What's the point?"
It does maybe seem a little strange – with the seeming fall of print publications across the board, even national news magazines and popular hobby magazines are slowly (or not-so-slowly) becoming "those things taking up space in our closets and attics." Remember Blender, Nintendo Power, and begging for or being begged for a subscription to Nickelodeon Magazine? Many magazines seem now to be a memory – something that survived the constantly shifting cultural conscious into the new millennium, only to be unceremoniously abandoned in lieu of websites, media consolidation, and a collective desire to sprint towards the Next Big Thing. The magazine was perhaps made up of too many (un)moving parts to keep up.
If popular music, popular video games, and a children's entertainment behemoth couldn't keep up in the magazine market, it probably doesn't feel unfair to ask how magazines centered on literature have managed to survive… or to ask why. While difficult to imagine now, literary magazines were once a technologically-assisted marvel. Throughout the 1800s, long before People Magazine took up immeasurable square footage in grocery store checkout lines, advances in printing allowed for a massive boom in the speedy creation and spread of literature. For those with an interest in the intellectual arts, literary magazines were an exciting promise. More content, faster. An object to share, discuss, and covet. BuzzFeed for the dilettante.
For a certain powerful group, these magazines became that Next Big Thing, and so did the writers included. T.S. Eliot, Hemingway, Pound, Woolf – a great many of the authors lovers of literature today consider "The Classics" were frequent contributors to literary journals and magazines. Like a snowball gathering mass as it tumbles downhill, the entire industry of the literary magazine grew exponentially. "Little Magazines" were created to showcase the work of lesser-known and experimental artists that established literary magazines would not. Anyone with access to paper and writing materials could contribute to or create their own literary magazine, and the prominence of eminent writers connected to literary magazines was a powerful lure for new and undiscovered talents hoping to be noticed.
Sprint forward alongside the quickly moving literary magazine into the 1950s. Here, you will find that the dilettante have at least partially given way to the restless and politically charged, with the grand romantic idea that anyone – yes, you! – can and should be creating art. And what better form than the magazine? Anyone can, after all, turn the pages of a book. Amazingly, the literary magazine, in its many forms, had by now ingrained itself not only within powerful and elite circles but among those who feel unknown and downtrodden. Jack Kerouac assures everyone: "You're a Genius all the time." The literary magazine, embodying this sentiment, is the undeniable and deeply desirable physical proof of it for innumerable writers, artists, and creators.
The readership may not be quite as vast as the latest issue of Good Housekeeping. The nearest superstore may not be stocking copies of The Paris Review (or Scribendi!) next to copies of The National Inquirer. Despite this, the literary magazine, with its long history, has planted itself firmly in enough varied walks of life to be difficult to erase. The literary magazine snugly fills the niche for an industry that democratizes literature in an age where it can seem like every success story must have the potential to lead to a movie-trilogy deal or an entire dedicated amusement park. It provides a space in which creators and writers can find refuge from creative burnout, with a literary magazine existing for just about every kind of story. Come all ye creators of literary fiction, fantasy, science fiction, romance, memoir, and dystopian YA novels. No matter what you love to create or read or view, the vast world of literary and arts magazines has got you covered – it's this diversity and democracy that has kept them from going the way of Nickelodeon Magazine (well, maybe among other things).
So every time you submit to or read something from Scribendi, know that you are participating in a great, historic movement. Every contributor or reader is a member of a prestigious, revolutionary, community-driven lineage. Many great works of art are about the tricky concept of fate, and maybe there's something fateful about how your support of a literary magazine connects you directly to Mark Twain or Gertrude Stein (if you're willing to get a little weird). No matter what, Scribendi thanks all our contributors, readers, and supporters. Hopefully we got the chance to talk to you at Publication Fair this year, and we're already excited to get the chance to do it again and introduce more people to this powerful community. We hope to make people believe it when Kerouac says, "You're a Genius all the time."