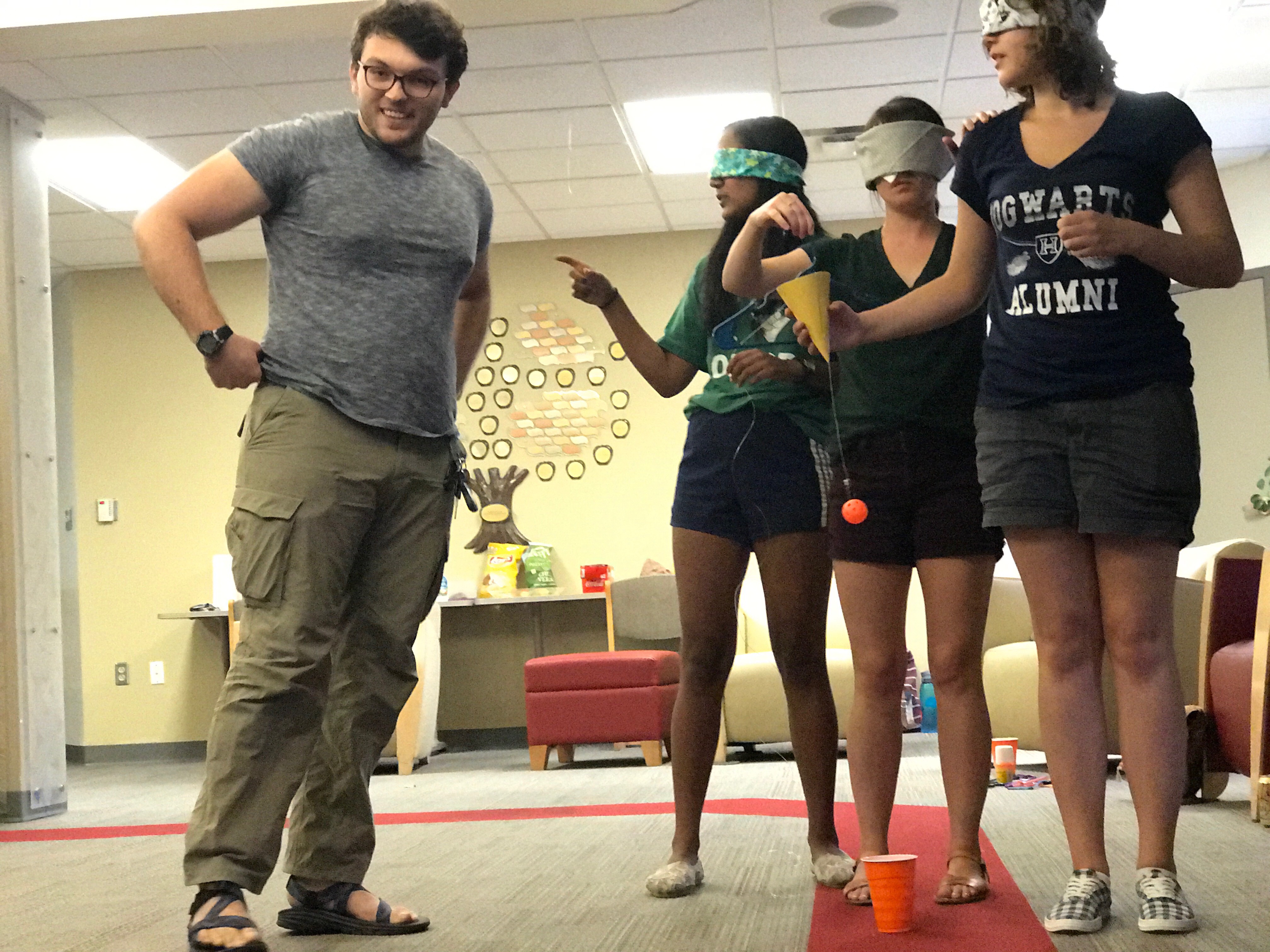 On Sunday, August 27, after a week of classes, each Scribendi staff member mosied into the Honors College forum. The task ahead was foggy–what exactly does a "Team Building Workshop" entail? We were soon to find out.
The idea, as the title suggests, was for each of us to become better acquainted with one another and to think about how to better work with each other.
"It's important for the staff members to begin to get to know one another, and it goes beyond simply learning one another's names (even though that's very important!)," said Amaris Ketcham, Scribendi's faculty advisor. "It's my hope that students start thinking about themselves as a member of a team during this workshop, reflecting on their own work habits and how those might relate to other team members."
Danielle Gilliam, a Scribendi alumna, the administrative officer for the Global Education Office and the leader of the Team Building Workshop, led us through four games.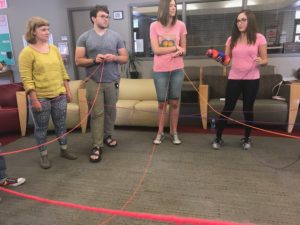 The first game involved a yarn toss where each member answered a question about themselves based on a prompt decided at the beginning of each round.
One round, we all said something that we liked to do on the computer; our Editor in Chief, Josh Rysanek, said he likes to play the card games on the computer (like Solitaire).
The second game helped us learn each other's names quite well. It was a stuffed animal tossing game. We had a pattern–a specific person who would toss us a stuffed animal, and a certain person to whom we had to toss the stuffed animal. The catch was this: the person who started the animal toss would continuously toss another stuffed animal into the game.
"It woke me up," Tarynn Di'Nnovati, a staff member, said.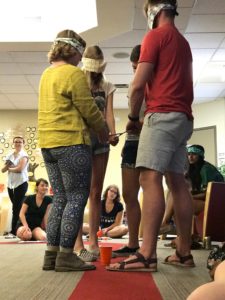 The third game was a bit more creative. That is, we had to build a mechanism to put some orange balls into cups without touching them or seeing them. We separated into four groups, built our inventions and then dawned our blindfolds. Heather Brock, Hyunju "Juju" Blemel, Connor Northness and Rysanek remained unblindfolded in order to guide their blindfolded group members.
Lastly, we all took the DOPE Test, which is a personality test that puts the test taker into one or more of four categories: Dove, Owl, Peacock and Eagle. This allowed us to learn a little bit more about how each of us might communicate with others. Of course, as we are all unique individuals, this test was not exact.
Even though our meeting was quite productive in getting to know each other, three hours is not long enough to learn everything about everyone. As time and our work on Scribendi progresses, we will learn more and more about each other, and so will our readers.
Our bulletin board is a good example. In putting it together, we learned about some of our staff members' thoughts about themselves. Members described themselves in six words, like Oluwaseun Oyeku.
"Quiet, intelligent, kind, determined, perfectionist, (and) imaginative," Oyeku said.
"Life is good, enjoy simple things," said Paul Talley, one of the editors.
Others, like Ariel Lutnesky, talked about what they are most looking forward to in the future.
Don't forget to stop by the bulletin board, right across from the Scribendi office, to see the rest of these comments and to learn the names and faces of our staff a little bit better.