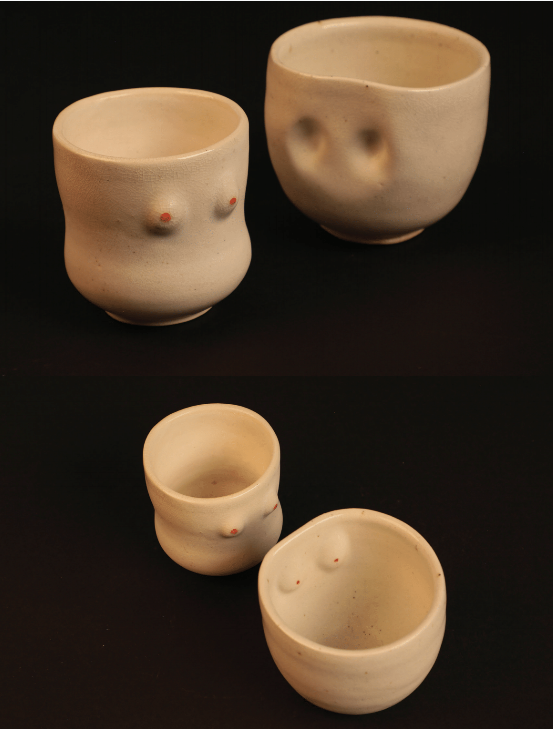 Boobs Are Measured In Cups, You Know by Stella Nall
How do you describe yourself as an artist? As a person?
As a person I am kind of weird, but also pretty friendly and good I hope. I like to laugh and help others laugh; it is important to me to be kind in all of my interactions. I can't really imagine how I would be without art – it is a big part of what makes me myself!  
Who are some of the artists who have inspired you throughout your life?
I have always been really inspired by my mom, she is the one who first introduced me to art when I was a little fella through watercolor paintings, pastel drawings and beadwork. I admire the work of Julie Buffalohead, Ishii Nobuo, Christa Carelton, Kenzie Olson, Jon Carling, August Vollbrecht, Egon Schiele, Ellen Von Wiegand, Kat Howard, my professors, and a bunch more people – I could go on forever about people who inspire me probably. I feel super lucky for the community of artists that live in Missoula, I am constantly in awe of the people working around me here. 
What do you feel is important that you get across in your pieces? Is there something you want the audience to feel or think about?
I value aesthetics and critical thought, but above all I seek connection in my work. Connection to others, connection to the earth, connection to my own identity and the history of my ancestors. I often incorporate humor because I see laughter as the most effective way to bring people together!  
How did you first start making pottery?
I took my first pottery class when I was in high school, and it was a truly horrible experience- so, so bad. My teacher didn't understand me very well as a human, but I'll give him the benefit of the doubt because I was a socially awkward 14-year-old and didn't understand myself very well then either. He would say things like "you have to center yourself before you can center the clay", and by the end of the semester when I hadn't succeeded at either of those things, I felt really awful about it and never wanted to touch clay again. For my art degree at the University of Montana, I avoided taking Ceramics I for as long as I could and was really anxious when the time came that I had to. However, the studio there had a completely different feeling. My professor, Trey Hill, explained how to throw in a way that made sense to me. Instead of treating ceramics like something that could only be achieved by magical people, he treated it as something accessible to everyone who wanted to put time and effort into learning it. That class transformed pottery from something that gave me anxiety to my go to activity for relieving stress, and I have loved it ever since! 
"Boobs Are Measured In Cups, You Know" is such a creative, unique and humorous piece. Does humor play an important role in more of your work?
I would say that I incorporate it somewhere between ⅓ and half of the time. I love laughing and being silly, but I also use my work to process the more difficult aspects of life and humor doesn't always feel like the best way to do that. 
What are some other important themes that you like to explore in your art making process?
Love, loss, environmental degradation, mental illness, identity.
I see that you are also focused on printmaking. What about printmaking attracts you to it? 
I am most drawn to the process, I find it really fun to immerse myself in learning new techniques and ways of printing. I ended up taking more classes in printmaking than other studio areas for this reason, so when it came to the degree requirements at my university it made sense to declare it as my B.F.A specialization. I definitely consider myself a multimedia artist, and I enjoy that printmaking acts like an intermediary between drawing and painting because I love both of those things too. 
What other projects are you working on now?
My brother and I are the first in my mom's family to be denied enrollment in the Crow tribe because of the blood quantum regulation, and I am working on a series of prints which speak to my experiences navigating the emotional confusion and identity questions which have been raised by the current debate surrounding qualifications for federal recognition. 
I am also wrapping up a long-term project called "Love is (?)", for which I interviewed 100 people over the course of 1 year about their experiences with love. I created a response-based installation featuring letters, illustrations and poetry in February of 2020, and I'm now working on converting it into digital form so that it can be accessible to those who missed the exhibition. 
Both of these projects are pretty emotionally involved, and they led me into the third project which I am working on called
Steel Wool on My Stomach. It consists of large-scale abstract paintings which I have used to process the difficult emotions brought up by my other work. I paint them with loose brushstrokes or sometimes just my hands, and incorporate mixed media elements such as staples and steel wool. 
Other than that I play a lot of music, write poetry most days and scribble little illustrations or watercolors for fun!