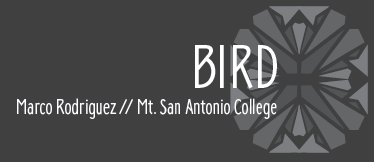 It's time to meet the winner of this year's WRHC (Western Regional Honors Council) Art Award Winner. Marco Rodriguez studies at Mt. San Antonio College, and his piece Bird was chosen by a panel of WRHC judges to win this year's award.
Marco was notified of Scribendi's call for submissions by his college's honors department, and decided to submit Bird, which was developed for his lithography class and printed using the planographic technique process. The print was inspired by Pablo Neruda's poem "Bird." "Neruda's poem mentions the migratory journeys of a swallows, so I wanted to interpret the bird's journey with our own journeys in life," said Marco. "I gave the illustration an overall surrealist design, distorting the landscape and giving the swallow an anthropomorphic look by adding goggles and a scarf to it."
Marco found out that his award-winning piece was being published in Scribendi one night when he was sightseeing and visiting family in Mexico. When he saw the publication notification in his email, he said he let out an excited "woo-hoo!" After his aunt and uncle rushed into the room to see what happened, "With both emotion and my stumbling Spanish, I translated and read the rest of the text. I felt extremely honored to have been selected out of a numerous amount of entries."
Marco said that this WRHC award is very special to him because it shows that he achieved a higher level in his artistic goals. Marco's Scribendi publication is his second publication. The San  Gabriel Valley Tribune published one of his artworks to showcase his college's student gallery art showcase.