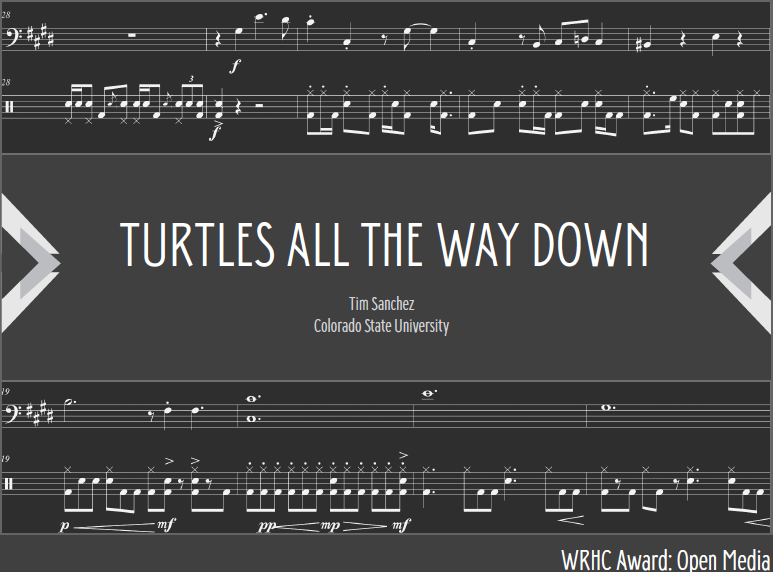 This piece was selected as the WRHC award winner in the Open Media category. This essentially means it was deemed the most exemplary open media piece submitted this year. Between the amazing composition of the piece and the unique blend of percussion instruments, it clearly represents the high standard of work the WRHC looks for when giving their awards.
Timothy Sanchez, who is studying percussion performance and music composition at Colorado State University, created this year's WRHC winner in the open media category, "Turtles All The Way Down." A wonderful piece dedicated to ancient mythology that says there is a giant turtle holding up the entire world, this percussive piece features lots of different kinds of instruments, from xylophone to marimba. It has a bouncy feel to it that allows the music to weave methodically on as the song increases in both pace and volume.
Sanchez said that the whole reason he wrote "Turtles All the Way Down" was "for an interview with Dr. James David in the hopes of getting into the CSU Composition studio." The piece was really to show the style of composition he was interested in. He draws inspiration from artists like Jonathan Ovalle, Alejandro Vinao, John Adams, The Claudia Quintet and Gyorgy Ligeti.
That's not to say Sanchez doesn't have his own method of creativity. Sanchez says that "finding time to work with the instruments I'm writing for is important so I truly get the feeling that I'm writing for a specific instrument rather than writing a part more suited for a different voice. I have to find ways to get excited about what I'm writing. It can be difficult to elicit that kind of excitement every time I write, but I never felt stuck while writing this piece. I always had some kind of direction."
On top of that, all musicians have a reason or drive for writing the music they do. Sanchez is no different. He says, "Basically, I write what I want to hear. I want audience members to get the same feeling I get when writing or performing. To me, it's the most pure form of communication. Plus, composing surprises me often. So many times I've been surprised by how much better my compositions sound out loud than in my head. This isn't always the case, but composing is such an experimental process that every opportunity to write is appreciated."
Scribendi is a great outlet for this kind of creativity and Sanchez has in fact been published before in this magazine. "I chose Scribendi because I submitted a piece that got in last year and really enjoyed that publication, so I decided to submit another couple of pieces this year. The first year I submitted to Scribendi was due to me having seen a copy of the 2013 version in CSU's honors building with CSU students marked. I thought it was a great opportunity that would be easy to submit a piece to. This is a great way to get noticed, and it's exciting to see what other students across the country are working on. Plus, this is a multi-modal and inclusive publication. This is one of the few publications I know of that includes the usual text and picture portions as well as an online media section."
Sanchez plans on continuing his writing and working towards making more music. "I have been writing even more now than I was at the time of completing this piece. I have written works such as a solo for alto sax, a trio for flute, cello, and piano, a few percussion pieces including percussion quartet piece and a couple pieces for the pandeiro, as well as some electronic works. I am currently studying percussion performance and music composition, so I'll definitely continue writing."
With any luck, Sanchez will keep submitting for the rest of his duration in college.