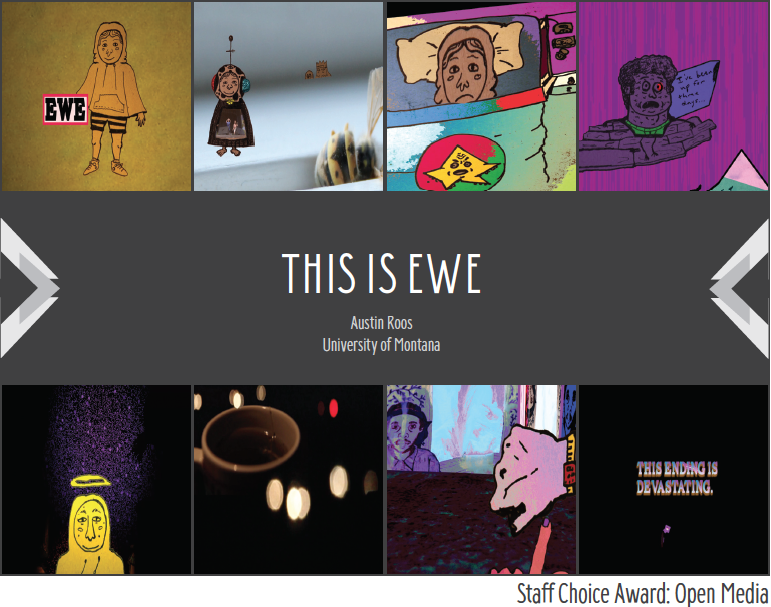 This year the Scribendi staff reached a crossroads when discussing the recipient of the Staff Choice Art Award. We found the term "art" to be too all-inclusive, especially when comparing works ranging from short films to traditional drawings. We chose to split the award into Staff Choice Visual Art Award and Staff Choice Open Media Award. The first recipient of the Staff Choice Open Media Award is Austin Roos for his short film "This Is Ewe."
Austin Roos attends the University of Montana. "This Is Ewe" imposes existential questions on its audience. It really goes there. Austin shared the driving force behind his short film:
"In high school one of my best friends lent me a copy of Alan Watts' Cloud-hidden, Whereabouts Unknown: A Mountain Journal. The book floored me in a lot of ways. I felt compelled to communicate what I had learned so that I would have a reference written in my own voice to revive myself back to that high watermark of clarity I gained from Watts, even in my darkest moments of self doubt and existential drifting."
The animated dreamscape is visually captivating. It's easy to get lost within this psychedelic world, but the narrator propels forward. When I first saw it I knew I would need to watch it again and again. With each additional viewing something new will be uncovered.
After watching "This Is Ewe" there is a sense of confusion. Not aimed toward the film, but rather an introspective dwelling. It really does make you question what is important in life, what is the end goal? When asked about the main message in the film, Austin stated:
"The nothingness before us and after us are the exact same. Death is nothing new; it is only a return. Love the briefness, things matter because they are finite. Anxiety is a waste."
As the first recipient of the Staff Choice Open Media Award, Austin Roos sets the mark for future recipients. "This Is Ewe" emanates eccentric energy and its fearless art style encapsulates why the Scribendi staff felt the need for this new award. With a category as broad as Open Media, there really is no limit to what can be done.