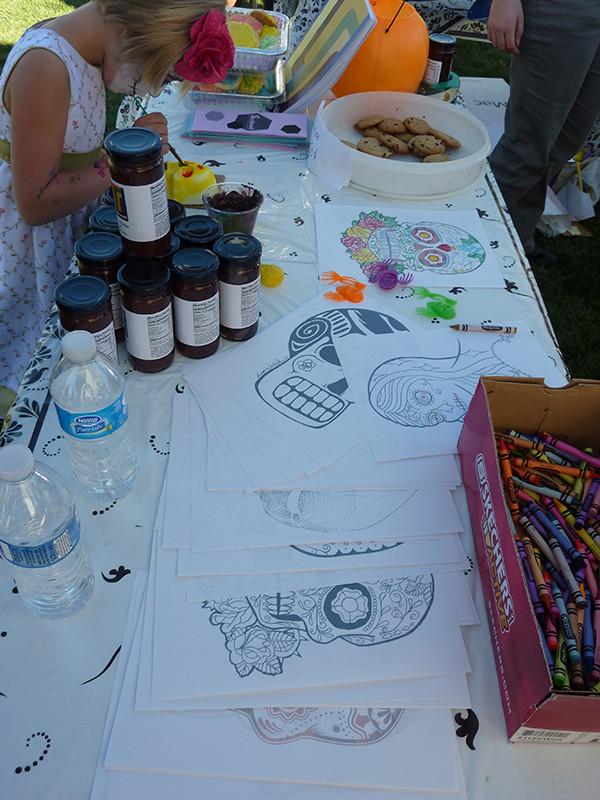 Scribendi has been hard at work reviewing submissions for the past several weeks. We have a great selection of writing, art, and open media to choose from and we are very excited to start putting the magazine together!
Our Homecoming was a success, despite our staff getting partially smothered by glitter from our star and space themed decorations. There was a high turnout of Honors alumni present, including several past editors (Jesse Montoya, Jordan Burk, Madeleine Coleman, and our current advisor, Amaris Ketcham). The Honors College was also excited to present a Distinguished Alum Award to Dr. James Moore, who has been the Director of Albuquerque Museum for most of his professional career.
On November 1st, the staff participated in the Marigold Parade that took place in the South Valley. The week leading up to the parade was filled with preparation and sugar skull making. (Creating sugar skulls is a lengthy process, partially due to sugar explosions). In retrospect, the staff agrees sugar is the glitter of the cooking world, and should be approached with caution. At the parade, we sold our edible sugar skulls, Scribendi t-shirts, water, and engaged with the community.
Our three editors, Michael, Kim and Caitlin, attended the National Collegiate Honors Conference in Chicago earlier this week. Besides exploring the city, our editors attended several panels concerning magazine design, painting, publishing, and a special "idea exchange." During the idea exchange, Kim reports that several people from across the country told her how inspiring Scribendi has been in the process of making their own magazines. The editors were happily surprised by the magnitude of Scribendi's national presence, and the intimate connection between different literary magazines across the country. Our editors alluded to other highlights of their trip, which included lessons in tying bowties, Oscar the dog, visiting The Bean in Millennial Park, and an obscene amount of cabbage. The stories behind these anecdotes remain mysterious.
Overall, the months have been passing swiftly for the staff as we move into the next stage of magazine-making.