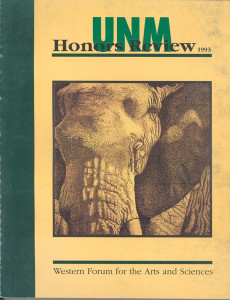 1992-1993 (UNM Honors Review)

V. B. Price, Faculty Advisor
Lisa Maureen Green, Editor
Jonatha Jones, Assistant Editor
Daniel Abraham
Joseph Hurtado
Denise Clegg
Jason Gibbs
Heather Krehbiel
Heather Leche
James Miera
Nikayla Nail
Bruce Ross
Felicia Steele
Historical Facts:
First year the magazine had "perfect binding."
This issue had six returning staff members, some of whom came back and were only staff, not editorial staff.
For a $10 donation (to cover the cost of shipping) you can get your own copy of this edition of Scribendi here. You can view a PDF of this edition here.