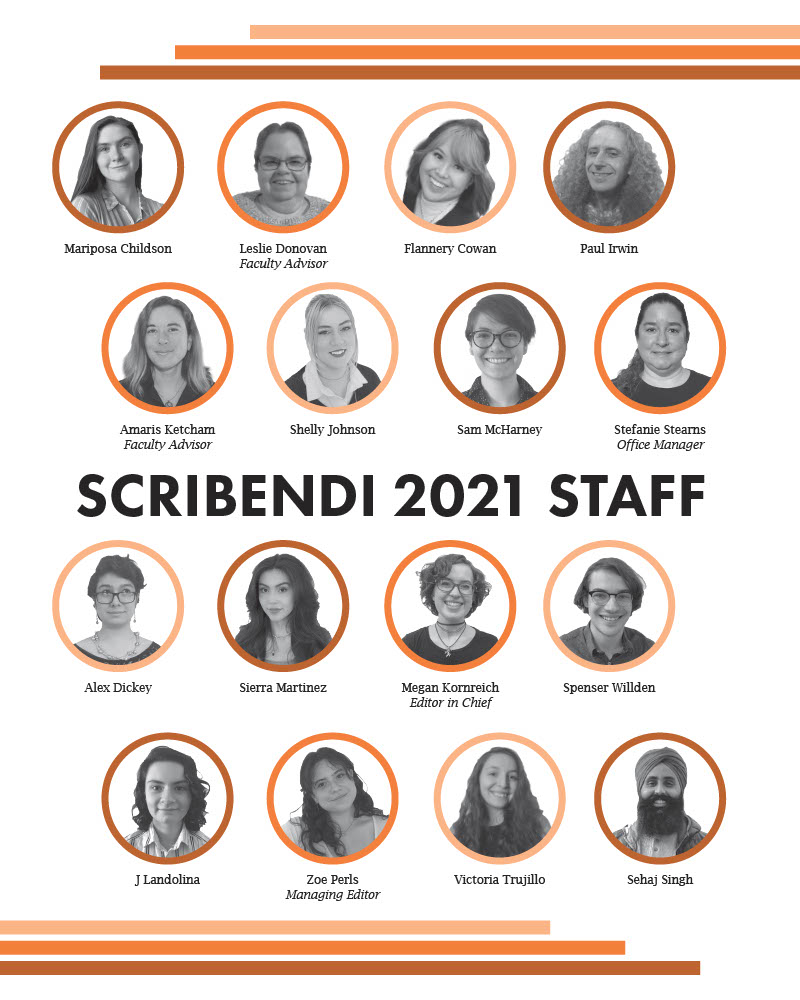 View a digital version of the magazine by clicking on the cover below!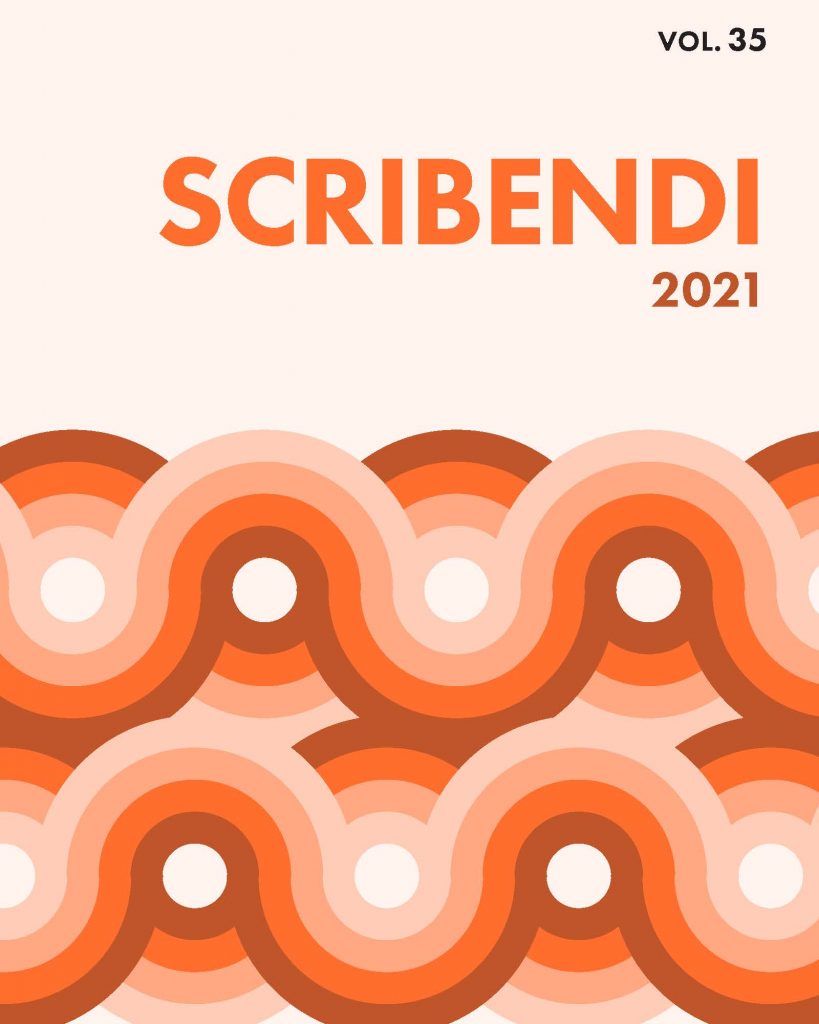 Historical Facts: This edition of Scribendi was crafted entirely online through video chats and calls, with much revision to create a good magazine design. The inspiration was a Swiss Modern design with some '70s flare which is notable by our Pantone choice. We wanted to give off a cheerful theme as we move from a dark time into a brighter future. As we planned much of our events online, we were inspired to be close even from a distance.
---
What you'll find in this issue: The 2021 edition features work from twenty-six Honors students from seventeen schools across the country. Included in this edition you'll find architectural models, recreated movie posters, and Russian poems. If you'd like to hold the physical copy in your hands, you can order the print edition here. Please donate $10 to help cover mailing, printing, and general operating costs. You can also download a digital edition by clicking here.
Table of Contents
Category

Contributor Name
Title of Piece
Creative Nonfiction
Alli Mancz

Seams of Gold

Emily Rice

Sincerely, A Climate Science Undergrad

Kevin Kim


I'm thinking I should buy flowers

Sarah James

If you want me to fall in love with you, make me oatmeal

Katrina Lantz


The Part I Can See

Christina Lee

The Balancing Act

Abby Pace


When The Soon Comes Running

Short Fiction

Felix Dong

Run

Abby Pace

Again! But this time with feeling!


Salome Aydlett

How To Ethically Steal A Pig


Julia Seaton

The Eye of a Cover

Luke Griffin

The Seventh Day Of Rain

Poetry

Kahlo Smith

Clay Boy

Morgan Azevedo

an ode to mental stasis

Marieke Sorge

Blooming

Samantha Park

Like You

Madeika Vercella

Warmth is a blanket of ignorance

Madeika Vercella

Jemison did not go to the moon and back for you 

Fiona Martinez

Earthly Gems

Samantha Park

LIVING IS NEVER EASY

Griffin Mozdy

Portmanteau To Take Along

Anna Rinaldi

Under the Microscope

Lexi Orgill

Pompeii

Sogol Gharaei

Diaspora

Jireh Deng

Wretched

Mahal Miles

To Be Alive

Jireh Deng

the next six months

Foreign Language

Daniil Tourashev

Моя Зашита

Blaise Koller

Le Secret des Étoiles

Maria Magana

Un día pronto llegaré

Photography

Alicia Alexander

Communion

Jeremiah Vandagrift

The Garden Bed

Martina Preston

"welcome home"

Ryan Schmidt

Bracing the Wind

Ryan Schmidt

Flight

John Adair

Candy-Wrapped

Saul Vazquez

Luz de la Luna

Alessandra C. Park

Penguins and the Evil Eye

 

Greta Gannon

Anthony

Rylee Norman

The Friendly Campus Ghost

Katrina Dutt

Unwind

Casey Ryder

Left Behind

Open Media

Marie Adele "M'Adele" Little

El Malpias: A Diné Collection of Pomes

Visual Art

Blaise Koller

Prickly Phantasm

Vanessa Krajeck


The Bizzare

Ethan Swanberg

Queer Nostalgia

Ethan Swanberg

Harvested Selfhood

Greta Gannon

Mountain Terrace

Anna Kenyon

Shadowed Cacti

William Hindmarch

The Man From Buton

Ashley Geraets

Aqua Vitae

Dylan Francisco Decastro

What Is Freedom?

Jenna Rhodes

The Ballad of Me 'n Jim

Jenna Rhodes

"But I am"
Enjoy our open media piece below!
El Malpias: A Diné Collection of Pomes by Marie Adele "M'Adele" Little
Inspired by and meant to be constructed in El Malpais National Park, this set of scale models depicts a design for a jewelers' retreat, complete with studio, gallery, and five living quarters for resident jewelers. The juniper berries and the hexagon shape that create the design are both elements used by the Diné who once inhabited the land of El Malpais.
Two sets of models, at 1:16 and 1:4, were created with basswood and photographed by the artist, emphasizing strong, intentional lighting details and highlighting the calming, natural-feeling design.