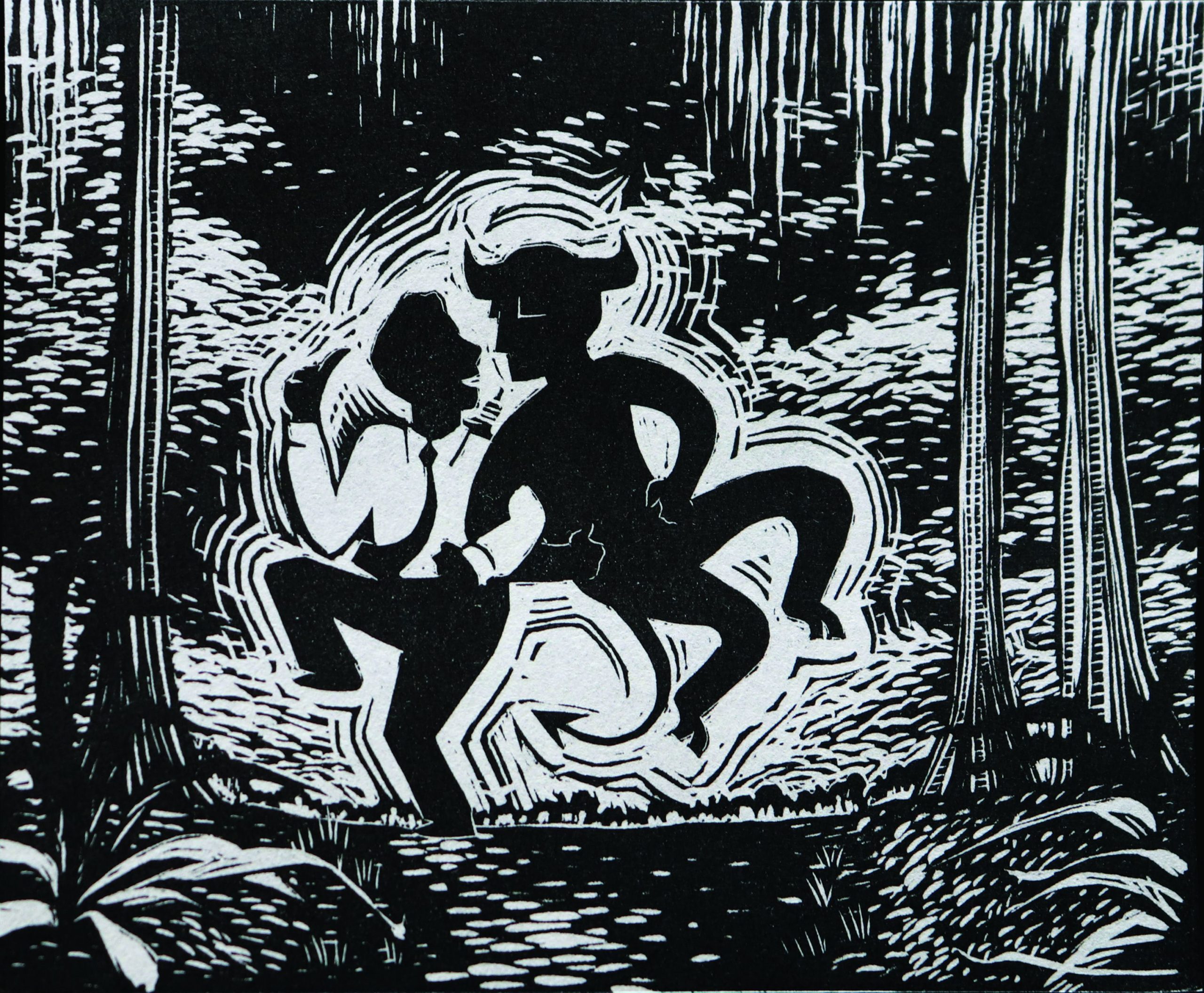 "Which is Jim? Which is me? Am I 'me,' or does 'me' refer to you?" 
Drumroll, please… The 2021 Editors Choice Award goes to… Jenna Rhodes for her linocut print of The Ballad of Me n' Jim. Jenna is a senior in the printmaking BFA program at Utah State University while staying creative in her spare time by sewing, dancing, singing, and of course petting cats.
The Ballad of Me n' Jim is an interesting piece, full of dance and mystery, creating a narrative with nothing but a piece of artwork. As noted in her artist statement above, we know the characters but we are unsure who is who in the print. Adding a mystical and fascinating interaction between the characters, environment, and viewer of the piece.
Here is the interview I had the joy of conducting with Jenna on her piece:
What was your purpose when creating this piece? 
In our advanced printmaking class, we usually take the first half of the fall semester to make one print per week for six weeks. Printmaking can be a pretty slow process with lots of planning, so this assignment is a real marathon, but it really gets you out of your head and making finished prints without spending too long worrying about the concept or anything like that. This artwork was one of those one-week prints, and I love the sense of spontaneity it has.
When I was brainstorming this print, the first thing that came to mind was the title – "The Ballad of Me 'n Jim," which made me laugh. It's got a ton of narrative potential, so to pair it not with a ballad or written story, just this simple image, opens up this vast conceptual space to play and imagine what's going on. Which is me and which is Jim? Who initiated this dance? Who's leading? Why are they dancing in the first place?
What got you into linocut printmaking?
As a printmaker, it just comes with the territory. It's a little easier than a woodcut, and I love how the subtractive mark-making process really causes you to think about how you're using negative as well as positive space.
Why do you enjoy the work you do or why do you do it? 
The more work you put into something, a hobby or a project, or a relationship, the more meaningful it becomes. As an art student emphasizing in printmaking, making prints has become meaningful to me. It's difficult and it's frustrating and it's more physically taxing than one might expect, but it's something I've worked hard to learn to do and that brings a real personal sense of accomplishment for the things I make.
What was your favorite part of working on this piece?
One of my favorite things about this print is the scale. This was especially true when I was working on it because smaller carvings go much quicker and there's generally less detail to worry about. Working small it doesn't really matter what the leaves look like, if they have realistic texture or tiny variations, they just need to evoke a sense of place and give you an idea of what kind of vegetation is around. That's really relaxing, setting suggestions that are pretty simple and quick on their own but work together to create a well-composed scene.
What is something that inspires you daily to create art or do regular things (a quote, a person, another piece of art, anything that inspires you)
I grew up in what I like to call a semi-rural area. Lots of my neighbors didn't have cows or horses, but lots of my neighbors did, and I take a lot of inspiration from the soft country aesthetic of my childhood. There are no cowboys in this print (as you'd find in a handful of other prints I've made), but the two characters are square-dancing. Honestly, dancing, too, is a great inspiration. It's an entire artform of its own, filled with capacity for narrative, connection, expression, and on and on, but also it's great for dynamic reference poses for my drawings.
Why should people submit to Scribendi?
I mentioned in my response to the following question, but this is a content-focused publication! First, it's free to submit, which is much nicer than art shows which sometimes require $30 submission fees just to be considered, and second, if you get published in the magazine you know your work will have pride of place! A nice clean page or two of what you made, unencumbered by side-panel gimmicks and advertising. A very, very classy way to get another resume line.
How does Scribendi compare to other magazines?  
I think this magazine is so neat. I don't read very many art magazines, but a lot of that is because they're commercial magazines so they're filled with advertisements, and they're trying to appeal to a wide audience so there's a lot of focus on celebrity. That's not interesting to me. Scribendi is fun because it's just one solid publication a year of writing and art from people who are my peers. It's a well-designed magazine, but it's not beating you over the head with branding. It's very content-focused, which makes for good reading.