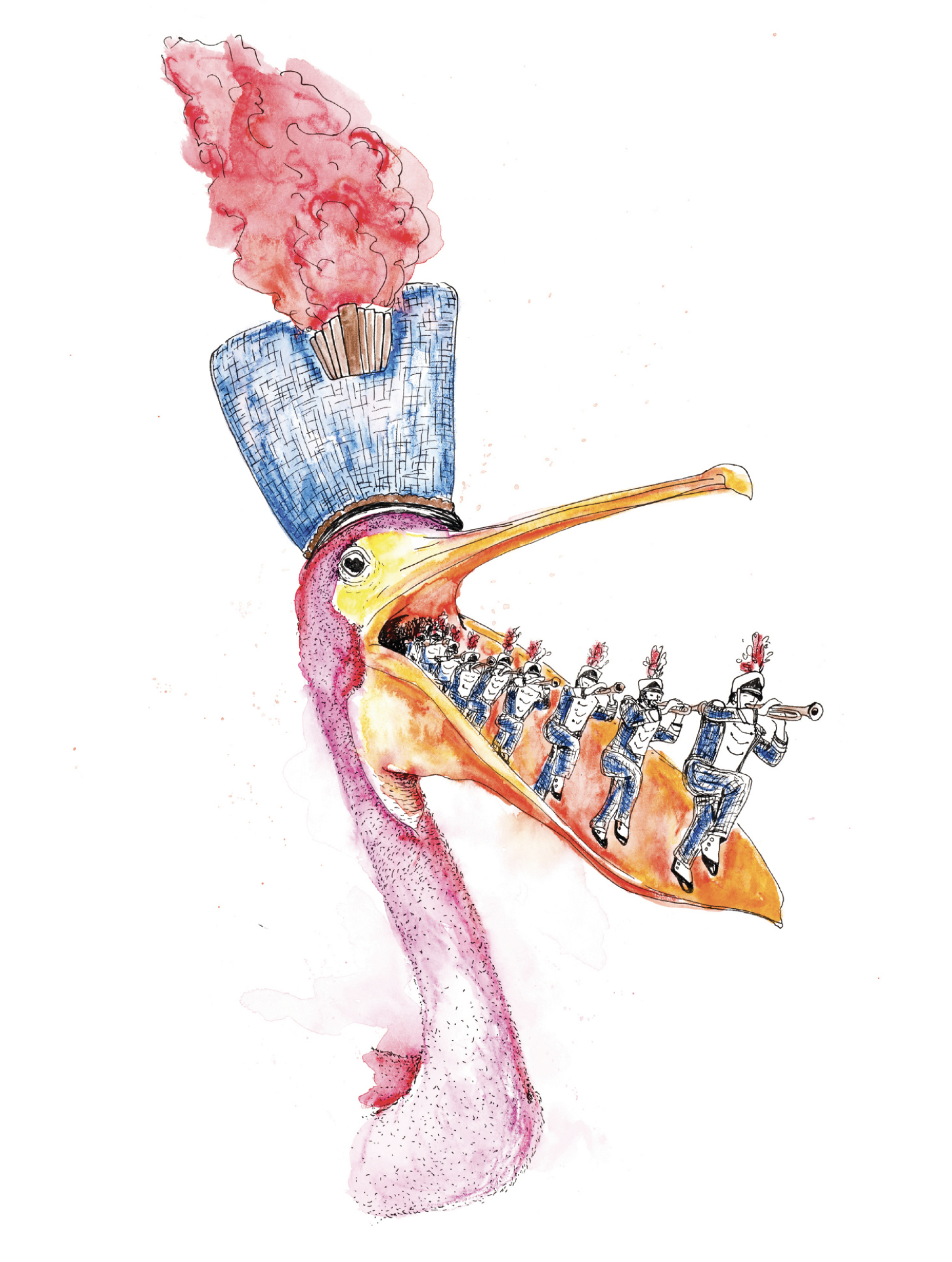 Art: Everytime I Open My Mouth in Public
Lara Lee 
Meintjes
, Long Beach City College
When it came time to discuss 
Everytime
 I Open My Mouth in Public, the staff couldn't help but let out an unforgettable chuckle of relief from the intensity that comes from evaluating all of the works with great care and consideration. It was the painting's incorporation of the title that brought to life the movement, color, and exceptional quality of work. The staff choice award reflects the magazine as a whole, and undoubtedly this piece is able to stand alone and evoke feeling, similar to the motivations of the staff with the 2018 edition of 
Scribendi
. Following is a closer look into the life and intentions of the artist herself, Lara Lee 
Meintjes.
Q: What was your purpose when creating the work? 
A: This particular work "Doris, or: Every Time I Open My Mouth in Public" is a self-portrait of sorts. It was created using a ballpoint pen, crayon, and watercolors. It references social awkwardness and the feeling that once one opens one's mouth the words are out in the world and the speaker no longer has any control over them. As a child I constantly questioned the world, but as soon as a question emerged I would try to answer it myself so I often made strange and sometimes outlandish statements. My father would laugh and call me "Doris" in response to these rambles. I painted this piece fairly soon after he died as a sort of nod to our relationship and also that part of myself that still engages in those questions, if in a somewhat more restrained manner. 
Q: Why do you enjoy the work you do or why do you do it?
A: I am compelled to draw and paint, to create something from nothing. Perhaps it is an affirmation of agency? I am fascinated by color and line, I love to start with a line and end up with a fully realized idea. I believe in storytelling as a means of communicating ideas about the world, my drawings and paintings are a way of engaging in that process. 
Q: Has being published in Scribendi affected your professional opportunities? If yes, how?  
A: Scribendi is definitely something I will add to my resume and to my transfer applications. Being selected for publication is also beautifully affirming, it is a gift when another individual or group appreciates one's work enough to publish it. 
Q: Why should people submit to Scribendi?  
A: Submission to various types of publications is an important part of finding one's place, of testing out various pathways through the world beyond college – Scribendi offers a relatively risk free way to put your work out there and see what interest it generates. I felt that the Scribendi staff gave thoughtful and genuine consideration to the process of submission and publication. There is a lovely respectful quality to the publication and to the engagements I have experienced through the process and I believe that is extraordinarily valuable at this stage of our development as students, individuals, artists, and writers. 
Q: Why are publications like Scribendi important?  
A: Scribendi, and similar publications, offer students the opportunity to experience the world of academia in a real, tangible way while we are still deciding whether it (academia) has a place for us. 
Q: Why did you submit to Scribendi, as opposed to another publication?  
A: Scribendi felt like the right home for my work, I looked at a few earlier issues and was impressed by the variety of work that had previously been included, and by the creative depth and breadth of the offerings. 
Q: How do you think your work has changed since you were published in Scribendi? 
A: I have recently began painting very large floral works, exploring color and shape more than representational, illustrative pieces. I will continue my illustrative work but I do enjoy the freedom of my recent exploration. 
Q: Tell me a little more about yourself. What do you want our readers to know? 
I am a non-traditional student at Long Beach City College. I am a full time student, currently completing dual degrees in anthropology and communication. I am a parent and a delightfully annoying feminist. I will be transferring to a four-year-school in Fall of 2019 where I hope to study anthropology and environmental science. My husband, daughter, and myself migrated from South Africa to the US in 2010 with a single suitcase each and started our lives again. Finding Long Beach City College gave me a purpose and helped me find my voice. I am involved in campus activism, in our school's wonderful honors program, and as a campus volunteer and supplemental instructor for a religious anthropology class as well as studying and working a couple of lovely jobs. 
A few fun facts… I have shown artwork on four continents and counting. My grandmother had a pet baboon when I was a kid, I also had an uncle who was a crocodile farmer – he used to allow us to feed the baby crocs when we visited, I thought he was terrific fun! I traipsed after my husband's rock band as they toured for several years when I was younger (not very typically feminist of me, I know). I was once asked to paint board portraits for the Museum of Art and Design in New York, for their annual report. I also once spent a long time laying out spec work for a locally based but internationally famous skate brand only to be told that my work was "too feminine" at the end of it all, and, silly but awkward – I once collided with Ewan MacGregor in the hallway at LACMA – He was lovely, I ran straight into him and he apologized.