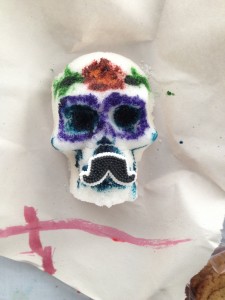 The Scribendi staff has been hard at work, pouring over hundreds of different submissions in order to narrow down what shall appear in the 2015 edition of the magazine. It can be quite the daunting task and when such a monumental work is undertaken, breaks of some sort have to be allowed for to make sure the mind is fully rested when evaluating work.
So the staff took a break November 2nd and went to the Marigold Parade, other wise known as The Día de los Muertos Parade down in the South Valley. There the staff sold homemade sugar skulls as a way of fundraising and also to just be a part of the rich culture of the South Valley. There were three different sizes of skulls that kids could choose from to paint, and lots of food coloring and edible mustaches were provided for the kids to liven up their skulls as much as possible.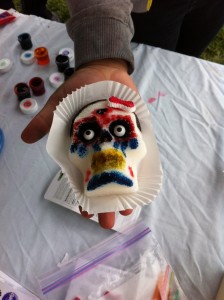 It was also a great bonding opportunity for the staff to spend time together and commiserate over the cold and wet conditions that permeated the day. Suffering together in the rain always will bring people closer together, and in this case, it did the job wonderfully. Not to mention the fact a young, stray pup was found and played with, helping keep spirits up.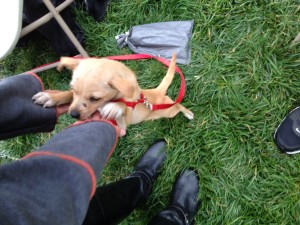 The staff was able to successfully take a break from reading submissions, make a little money and bond all in one afternoon. Even the rain could not dampen their spirits and after the day, going home and reading submissions seemed just a tiny bit easier.