2011-2012 Staff
Leslie Donovan, Faculty Advisor
Danielle Gilliam, Teaching Fellow
Robert Alanis, Editor in Chief
Tracy Buckler, Managing Editor
Gianna May, Office Manager (Fall)
Kara Filipas, Office Manager (Spring)
Susie Davenport, Senior Staff
Hannah Peceny, Senior Staff
Jessica Barajas
Megan Chatterton
Sara Crespin
Austin Evans
Kayla Saldaña
Amy Sullivan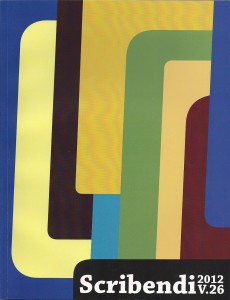 Table of Contents
| | | |
| --- | --- | --- |
|  Category |  Contributor Name |  Title of Piece |
|  Creative Nonfiction |  Monica Fernandez |  Dancing Slugs |
| |  Julia Youngs |  Instructions for When You Forget Yourself |
| |  Skye Savage |  Moscow, 12:00 A.M. |
| |  Alicia Parnell |  Silent Sage |
| |  Erin Nicolai |  The Art of Losing |
|  Short Fiction |  Claire Mikeson |  Assemblé |
| |  Somel Jammu |  Border |
| |  Gianna Marie May |  Pygmalion |
| |  Lindsey Appell |  Shell |
| |  Brandon Reich-Sweet |  The Blue Ghetto |
| |  Emily Broadwell |  The Defect |
| |  Christopher Rowe |  The Lights |
|  Poetry |  Meg Elison |  Abort/Retry/Fail? |
| |  Molly Sroges |  At the Museum of Genocide Victims in Vilnius |
| |  Emily Broadwell |  corpses |
| |  Claire Mikeson |  Irene's Lungs |
| |  Kaitlyn Arndt |  Moon Tanning |
| |  William Palomo |  Mother Was a Mountain |
| |  William Palomo |  My Core Convulses within Myself |
| |  Maggie Mullen |  Old or Damaged Film |
| |  Katharina Brown |  Our Family Recipe for Toast |
| |  Rebecca Dzida |  The Capuchin Monk |
| |  Craig Dubyk |  The Husks |
| |  Molly Sroges |  Wernicke's Aphasia |
|  Visual Art |  Kelsey Giroux |  Dispensed |
| |  Alisa Boyko |  Ghost Hours |
| |  Naomi Tirronen |  Music to My Head |
| |  Alisa Boyko |  My Home Is Old Village, My Home Is White Snow |
| |  Corinne Lykins |  Problems of Imaginary People |
| |  Danica Wixon |  The Word and Two Sparrows |
| |  Kelsey Giroux |  Underneath |
|  Photography |  Eleanor Call |  Above It All |
| |  Ian McDavid |  Before the Storm |
| |  Autumn Sundt |  Celestial Incision |
| |  Somel Jammu |  Falling Up |
| |  Kendell LaRoche |  Nature's Hourglass |
| |  Claire Stasiewicz |  Nothing & Approach |
| |  Emily Atmore |  Notre Dame Prayers |
| |  Jared Christensen |  Paris, France: May 2011 |
| |  Kendell LaRoche |  Stranded |
| |  Alex Luce |  Submerged |
| |  Ryan Borys |  Tonto |
|  Digital Art |  Julie Anderson |  Here's Looking at You |
| |  Carissa Simmons |  It's So Close, but We're So Far Away |
| |  Jessica Neuwerth |  Phoenix Rising |
| |  Geremy Cites |  Retaken |
|  Film |  Chloë Winegar-Garrett |  Fragment |
| |  Jesse Darling |  Klitze Kleine Tropfen Blunt |
| |  Gianna Marie May |  The Right Book |
|  Foreign Language |  Isabel Santana |  Mi veneno favorito (My Favorite Venom) |
| |  Andrea Valencia |  Nostalgia canela (Cinnamon Nostalgia) |
| |  Maya Benko |  Que vida (What a Life) |
|  Music |  Jeremy Wells |  Instance of Discovery |
| |  Christian Flet |  Nocturne |
| |  Elizabeth Davis |  Say Goodbye Slow |
2012 Cover Process
Here's a look at how the 2012 staff made the cover for the magazine!
The Right Book
Giana Marie May
University of New Mexico
It started with an idea, a character. What if there was someone whose entire life revolved around reading libraries? This film aimed to bring to life this character, Benjamin Biblio. It chronologically begins with him reading his university library, lost between the pages and protected by the maze of dusty volumes worn covers. All this changes when Libby invites him into the unwritten world where Benjamin must learn to adapt.
The creation of this piece was done by the two-person video group, Antanna Manchez, which I am a part of. Starting in the winter of 2009, two twelfth grade high school students (current reporter for the Daily Lobo, Antonio Sanchez, and I) joined forces to create the best films ever known to mankind—or, at the very least, valiantly attempt to do so.
The filming process of The Right Book involved the usual Antanna Manchez approach. That is, we brought a general idea to the table and worked alongside our actors to flesh out the story. A collaborative effort, The Right Book was shot with flexibility in mind. There were little to no written lines. Blocking and movement was either left to the actors to decide, or collectively determined to see what would result in the best shot. And, above all, everything was approached with an open mind.
There are around fifteen other films under the name Antanna Manchez, and yes, we do have  YouTube channel (AntannaManchez). Our current projects remain quite open for the future, but there are talks of a project involving pie, revolution, and love (unofficially titled All in Good Taste) and a Stories of the Stranded (Part 3) to finish up a three-year series that has been an ongoing project since 2009.
Say Goodbye Slow
Elizabeth Davis
University of Denver
The act of creation is a form of prophecy. In a hundred years, someone in a distant place might read what you wrote, see what you sculpted, or hear what you composed, and feel just as you felt creating it. How many times do we return to our favorite passages in well-worn books or our most beloved moment of a symphony to feel a connection with the creator and remind ourselves that as human being we are not alone? Whether one writes, paints, sculpts, or composes, there is great power in relating to and connecting with other human beings through art. It is the means through which we seek to preserve the magnificence of life. When I write a song, I am expressing myself, but I am also linking myself with others through common human experiences.
My junior year in high school, my experience as a member of the All State Choir changed the trajectory of my path as a storyteller. During our final performance, the power of music crystallized for me in a way it never had before, and I felt driven to produce my own music. Over the next fourteen months, I taught myself to play guitar and ukulele, and wrote, arranged, recorded, and distributed a ten-song CD. I am eager to share my music with others and hope it will communicate to them as the music I love continues to communicate to me.
Nocturne
Christian Felt
Westminster College
This short piece for orchestra is inspired by the opening bars to John Adam's opera Nixon in China, in which the strings play a series of rising minor scales, producing a hypnotic meditative effect. I create a similar effect at the beginning of this piece, using a series of rising scales in the Dorian mode to evoke a sort of dark mood that I felt was suitable for the genre of the nocturne. In addition to the rising scales, the most important musical material is a motive in thirds in the woodwinds that creates a smooth sensation of line even when, at climactic moments, it comes into dissonant relation with the material based on scales. This piece is very brief and consists of three parts made out of the same thematic material: A, A prime, and a coda also based on A. This piece is one of a series of short, atmospheric sketches.
Instance of Discovery
Jeremy Wells
Utah State University
This piece is a contemporary composition for solo piano; it is an exploration of emotion, a journey of discovery. The tempo and dynamics are played loosely, allowing for freedom of expression—I often lose all sense of timing as I play this piece. It is in this euphoric state that I really come to discover the emotions that lie within the music. It becomes an instant—a moment in time in which anything can be discovered.
The music I play every day is a reflection of my feelings, thoughts, hopes, and achievements. Every time I sit down to play, the experience is different. Music is an expression, or even an extension, of the soul. As the technicalities of performance come behind us, and the freedom of musical discovery is explored, true music is created.
This song is an opportunity to explore that freedom. The simple melody is backed by sweeping arpeggios, or stands alone in majestic confidence. A second melody lightens the feel for a moment before returning to the first melody, stronger than ever. Coming full circle, the ending reminds us of where our journey began. In each section musicians must discover the feelings they can express. They may find themselves painting a picture, or traveling across a peaceful landscape. They may find people they know emerging from the music. These are but a few of the things I have found in my instances of discovery.
Fragment
Chloë Winegar-Garrett
University of New Mexico
Fragment is a time-based piece reflecting on the intensity and confusion surrounding pain. While the pace of this video triptych is incredibly slow and perhaps unbearable for certain audiences, the sluggish speed helps to increase the tension and blurriness inherent with recalling a painful memory or trauma. This will have a different impact for anyone watching this piece because every experience of pain is different and unique. While one person may recall sexual abuse when encountering this piece, another may remember the death of a loved one, or a long-lasting disease such as a cancer.
Fragment's color scheme is limited to a vibrant red muted by grainy texture to remove too much visual information and instead allow for a meditative state for the viewer by being drawn into this strange world. The eerie red pouring down the channels is repeated exactly the same in each window, but with varied connotations. Each window examines a crucial part of the pain of this figure, even though no information is released concerning the history or reason for this disturbing recollection of pain. Each feature is abstracted and exaggerated. For example, the eye is uncomfortably large and the mouth is disfigured and distorted. While the hand on the stomach is more subdued, this far right channel is calming and quiet and less strange, but contains an equal amount of mystery and sadness.
These elements all come together in Fragment to form an abject yet serene look at pain and the fragmented way in which memories come together and fall apart.
Unfortunately, this Open Media piece is currently missing.
Please have patience with us as we work on this page.
Klitze Kleine Tropfen Blut
Jesse Darling
University of New Mexico
In making Klitze Kleine Tropfen Blut, the process was a bit jumbled. Arranging so many actors in a foreign country and having a dialogue-heavy film in a language that I was not fluent in were both huge challenges. But luckily, we were able to get some really talented people in one the film and had a fun time.
The film was meant to combine a lot of thoughts that I had on the concept of backstory. Namely, I wanted to question what exactly it is and if it clouds us, in a sense. I feel that a lot of films go out of their way to explain every little thing to an audience, and I don't think this is always good. I think it can be great as an audience to have substance, cluelessness, and confusion mixed in. Deprivation for deprivation's sake is a strange statement for some, I suppose, but I think a bit of nihilism every now and then is healthy for the rational individual. It reminds us where we are.
And so I made a film that revolted against backstory, and used it to hopefully taunt its audience. I wanted them to take a sense of amusement in not being fulfilled and appreciate the fact that they do not necessarily know the backstory of Felix and the handcuffs.