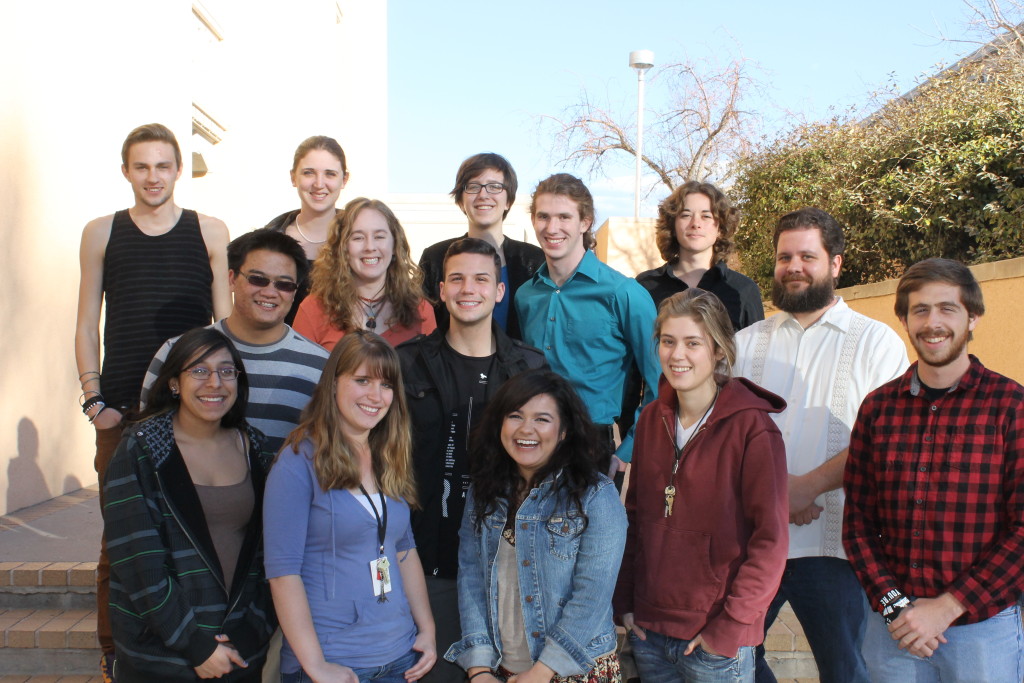 2012–2013 Staff
Amaris Ketcham, Faculty Advisor
Austin Evans, Editor in Chief
Amy Sullivan, Managing Editor
Sara Crespin, Digital Editor
Kara Filipas, Office Manager
Taylor Bui
Jordan Burk
James Epps
Rosario Marroquin-Flores
David Garcia
Gianna May
Nicole Perez
Julia Skillin
Claire Stasiewicz
Michael Sol Warren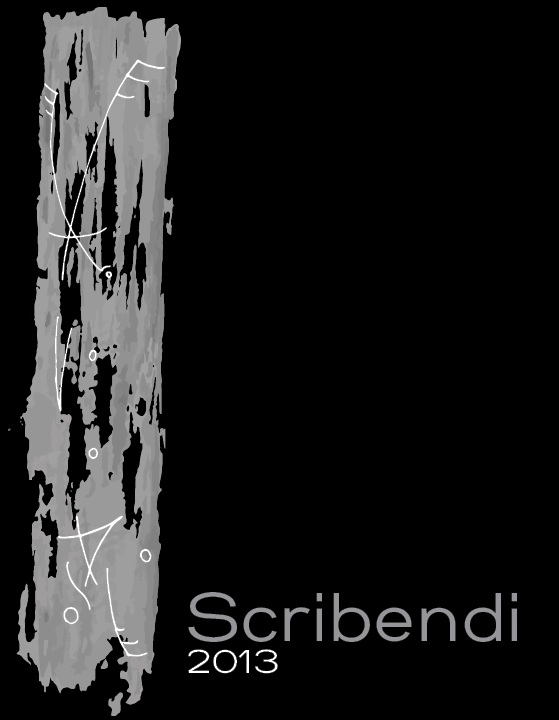 Historical Facts:
Scribendi won its second Associated Collegiate Press National Pacemaker Award.
Amaris Ketcham, the first student staff member to serve in Scribendi for four years, returned as the Scribendi Faculty Advisor.
Open Media was included as a submission category for the first time.
2013 introduced the iPad edition of Scribendi, which is available on the LitRagger app.
For a $10 donation (to cover the cost of shipping) you can get your own copy of this edition of Scribendi here.  You can view a PDF of this edition here.
Table of Contents
 Category
 Contributor Name
 Title of Piece
 Creative Nonfiction
 Sarah Anderson
 Försynt
 Alexis Gibson
 My Dad Always Wanted a Girl
 Dana Kiel
 Non Scholae Sed Vitae Discimus
 Paige Mac Millan
 Pretty, Witty, and Gay
 Brandon Reich-Sweet
 Reading Fear and Loathing in Las Vegas in Las Vegas
 Short Fiction
 Miriam Armstrong
 The Amazing Mrs. Grace
 Matthew Ryder
 The Big Cheese
 Annie Pulsipher
 The Boy Who Tamed Wolf
 Maria Catlett
 Constance
 Taylor James
 The Dresden Moon
 Jennie Zhang
 Eleven Seconds
 Aaron Rowley
 A Soliloquy for Derringer
 Poetry
 Kobi Weaver
 The Crackhead Games
 Jordan Wilkie
 Embers
 Breeann Silbernagel
 Garden City
 Jesse Montoya
 Go On, Go Home
 Carlie Derouin
 The Ravages of Time
 William Palomo
 Snow and Seraphs
 Melissa Reese
 Subway Hymn
 Maria Catlett
 To a Brother
 Paulina Jenney
 Your Mouth
 Visual Art
 Christopher Krieger
 The Apple
 Ariel Peterson
 Armor
 Brittany Arnold
 Boston
 Lucy Horrall
 Buddeh
 Stephanie Chen
 Chrome-atics
 Reilly Sheffield
 Hollywood and Highland
 Roxanne Olsson
 Origins
 Roxanne Olsson
 Rutherford Exposition
 Hayley Williams
 Woman
 Photography
 Andrea Valencia
 For Yolanda
 Grace Ryan
 Haunted
 Molly Turner
 Jicho na Gonga
 Maya Benko
 She Walks in Beauty
 Jessica Lindsay
 Snowy Wolf
 Kinzie James
 Though They May Be Parted
 Izzy Pollak
 White Church on a Cloudy Day
 Margaret Havunjian
 Widower
 Open Media
 Alexander Kusztyk
 Apollo and Daphne
 Alexander Kusztyk
 Bridge of Sighs
 Izzy Pollak
 Dreams

™

: A Trayvon Martin Story
 Adrian Carcione
 Peripheral Revolutions
 Emily Weeks
 The Spirit in the Wild
 Emily Weeks
 Sweater Wolf
 Digital Art
 Julia Anderson
 Becoming Aware
 Enid Spitz
 Birds of Paradise
Below are our Open Media pieces for this year. Enjoy!
The Spirit in the Wild
Emily Weeks
Washington State University 
For my whole life, I have felt a mysterious connection to the beautiful land of my home in western Washington. This film is a desire to express the sense of awe and revitalization I feel when I am in the land and to portray this specific geography in a way that counters homogenization, exploitation, and despair. The story of the film concerns the pain resulting humans' divorce from nature and more ancient or traditional ways of living. 
Peripheral Revolutions
Adrian Carcione
Moorpark College
WRHC Award Winner: Open Media 
I consider music to be a cognitive exchange of the form of thought between listener and composer. Music evolves through this exchange as new patterns that are slowly assimilated into the modern ear. Composers are the proponents of the evolution of music throughout time. 
One of the themes in "Peripheral Revolutions" has an important visual association. I see the four transpositions of the melody as four similar polygons, so that the relationship between them is quantifiable through the transposing interval, or proportion (in the case of the polygons). These polygons are superimposed and joined on corresponding sides, resulting in a spiral, since the melody is continuous. 
Apollo and Daphne
Alexander Kusztyk
Saddleback Community College
During a recent sojourn in Rome, I was elated to visit Villa Borghese. This grand home displays some of Italian master sculptor Gian Lorenzo Bernini's most famous works. Among them is the sculpture Apollo and Daphne, the inspiration for this piano piece, which is a musical recounting of the mythical story. Bernini sculpted it in such a way as to make everything seem alive and in motion. The branches and roots growing from Daphne's hands and feet are so delicate. Both bodies are soft and perfect. I wrote this piece to honor Bernini's masterpiece and to convey the emotional story behind Apollo and Daphne. 
Dreams TM: A Trayvon Martin Story
Izzy Pollak
Loyola Marymount University
I made Dreams TM: A Trayvon Martin Story to pose this question to the audience: Who is at fault? Such a question was paramount throughout the discourse of the legal case, so I figured taking all of the known facts and statements from both parties and placing them in the narrative format would help people understand the nature of the event. Maintaining an objective point of view throughout the film was important to me because I wanted members from both sides of the argument to watch it and take something from it 
My personal belief is that both men were victims of fear, and that is what I believe led to the eventual death of Trayvon Martin that evening. It was an absolute tragedy that this young boy was cut down in his prime, but this message is one that has rung clear throughout the course of history, continues to sustain loudly today, and will continue projecting into the future until a paradigm shift occurs; the shift that must take place is the acknowledgement of the homogenous nature of life. 
Sweater Wolf
Emily Weeks
Washington State University
Sweater Wolf is an expression of loss and hope. Saoirse, a young woman, lives as a hermit in a frozen wood, hiding from the world and the pain of her memories. 
The film combines a variety of imagery to tell the story. Deer motifs run throughout the piece, and I tried to incorporate as many warm textures and as much cabin imagery as I could. I animated on paper with pencil, scanned in the frames, and colored them using Photoshop. Slight shifts in color imitate the inconsistency of real paint. I cut the snowflakes out of paper and scanned them into the computer to create the falling snow effects, though in the final film, they are not very visible. I knitted the end credits. 
Bridge of Sighs
Alexander Kusztyk
Saddleback Community College
This past summer, I spent four days in Venice, Italy. One of my favorite sites, the Doge's Palace, evokes spectral images of a glorious, but oftentimes dark and haunting, past. The Bridge of Sighs, an equally captivating place, is an enclosed bridge connecting the palace to the prison. In the times of the Doges, people were often wrongly accused of crimes and were torn from their families, friends, and the magic of Venice. This piano piece, "The Bridge of Sighs," attempts to give voice to those anguished souls, the souls of those who had once attended masked balls in the grand palaces and basked in the splendor of Venice. As a world so cherished and loved is left behind, a final glimpse from the bridge brings the condemned a rush of memories and a wistful sigh.