Joshua Chang is a double major in electrical engineering and applied mathematics at the University of Nevada, Reno who "doesn't know why he didn't choose to be an art major." His piece Sunshine, which was created with house paint on a stairwell wall, was selected by the 2019 Scribendi staff to receive the Staff Choice Award for art. The staff was impressed by Chang's use of color, the detail and technical precision he was able to achieve, and the serene mood of the piece. The staff also appreciated Chang's purpose for creating the piece, which he discusses in the interview below. This is the second year Chang has won an award while being published in Scribendi.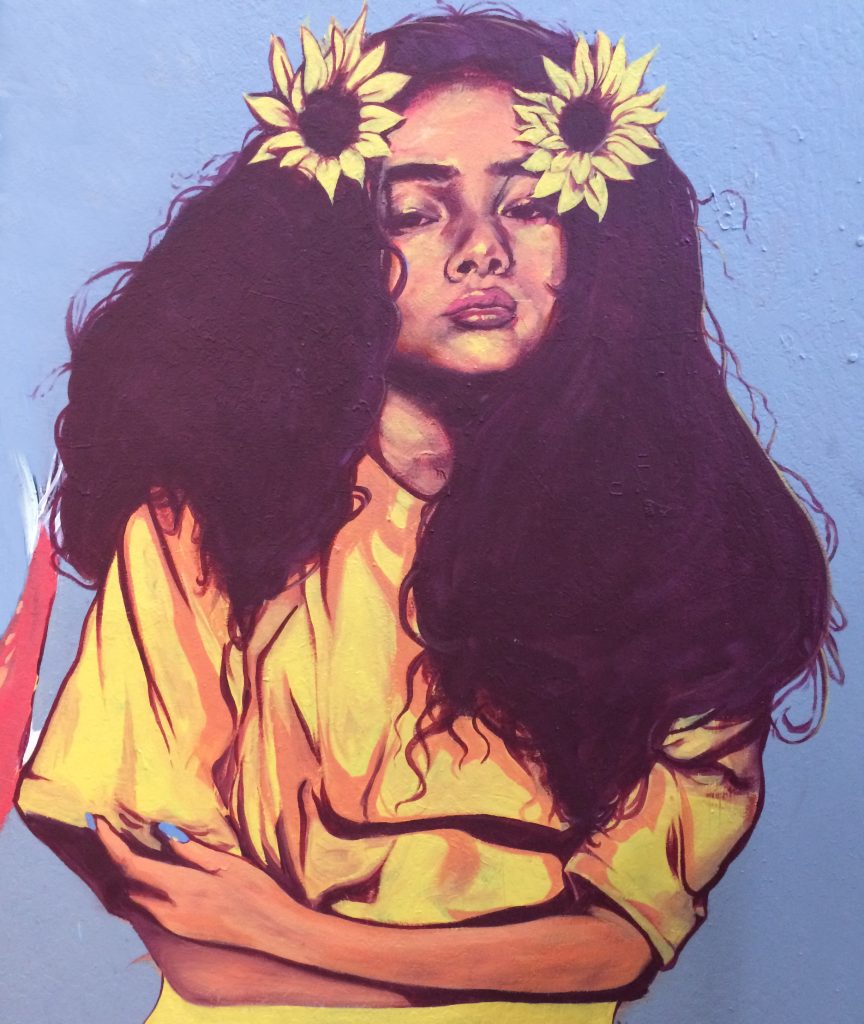 In your artist statement, you wrote that you created Sunshine as a nonviolent response to political conflict that was happening at your school. Can you tell us more about that?
It happened a while ago but one night someone decided to spray paint swastikas in the graffiti stairwell at UNR. As a response, the art department invited everyone to paint over them which is when I started to get involved. I went and painted a really small piece and then I just kept going back to paint more. There was a lot of hate that needed to be resolved with love and art.
What challenges, technical or otherwise, did you face while creating this piece?
The first challenge was the size of the piece. I'm not exactly Jimmy Stewart so my arms will only take me so far. The second major challenge comes from the process of laying down the paint one step at a time because the whole time you're thinking about if this piece is worth the space it's taking up or whether other people will find it meaningful. This feeling persists until you actually finish and there's no other way to face it other than to finish the piece.
Who is the woman in the piece? Why did you choose her as your subject?
She's just a woman with very calming eyes. It was mesmerizing when I first saw the picture and I thought she'd be a great subject for the heart.
What is your creative process like?
First, I'll find a picture or subject I enjoy looking at that I feel like my style would contribute to. Then I find a suitable color palette for the feeling, Sunshine gave the same feeling as a warm hug so her colors reflect that. I'll go to Home Depot and ask for the closest colors in a sample cup and then when I'm actually in the stairwell I'll lay down a base coat and then the darkest color to sketch and block out shadows. The most important aspect of any of my pieces are the eyes and I'll spend the most time on them because once you capture that then the whole piece will come together.
In 2018, your piece To Sheehy won the WRHC Award for Visual Art. How do you think you've grown as an artist since then?
I'm definitely still doing art for other people but in this case, it was an honor because the impact it's had on campus was unlike any other piece I've created before. I've grown to appreciate the reactions that my art sparks in others and now I strive for that same reaction in myself with my own art.
How do you feel about being published in Scribendi–and winning another award–for the second year in a row?
I'm just glad that there's another means of sharing my art that actually feels like it's being seen by all types of beautiful people. It's enabled me to create art that I feel is worth sharing.
Are you working on anything right now?
I have a large portrait I plan on submitting next year. It's gonna be the largest and most loved art piece I have ever created.
Why should students submit to Scribendi?
I got to meet a couple of the Scribendi staff members and I honestly haven't met another publication team like them in terms of professionalism and personality. I enjoy submitting to Scribendi because I know whether I get in or not, I'll still be supporting a platform that gives an artistic voice to honors students.