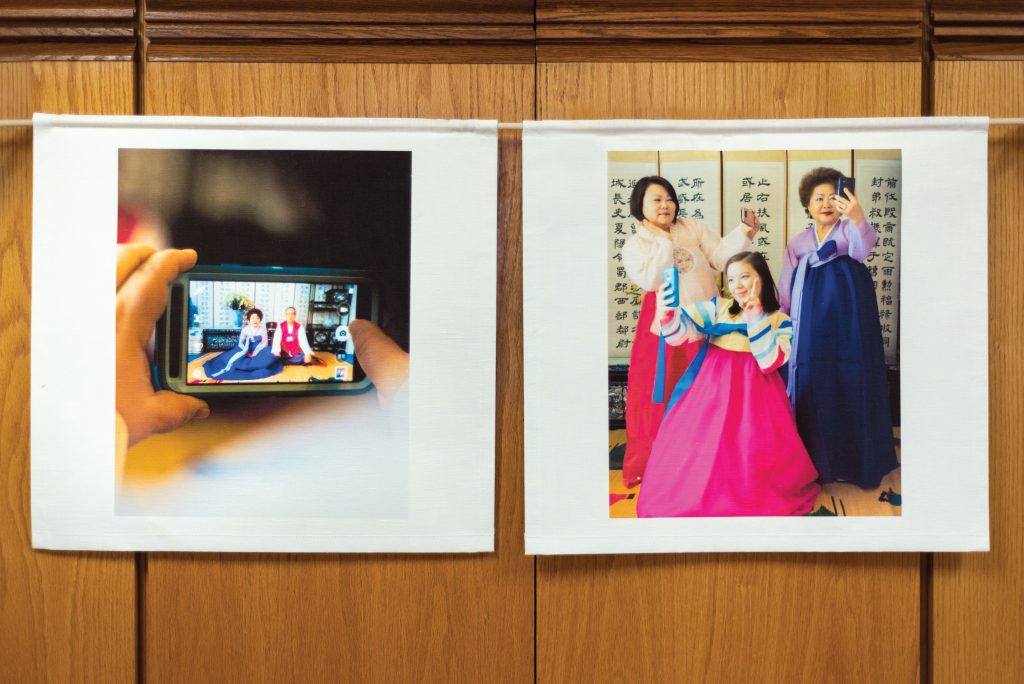 Hyunju Blemel, a student at the University of New Mexico, is an energetic and determined young woman who is turning her passion for photography into a career. She fell in love with the process of photography in a high school photography class where she got to develop film and manipulate the prints. Hyunju bought herself a small digital camera in 2015 to take photos for fun of family gatherings, friends, and small details in her environment. In 2019, photography evolved from a hobby to a career when she used most of her savings to buy a full-frame camera. Now, Hyunju uses her skills in her University Communication and Marketing position at UNM and to shoot weddings, senior photos, head shots, and events on the side.
The photo is titled "Sam-se-dae Ja-hwa-sang (Three Generations Self-Portrait)" and is a colorful image of two photos printed on fabric. They are a reflection of Hyunju's family; the left photo is of her grandparents in a pose she has often seen them in, and she decided to contrast it with how people use technology. Hyunju was introduced to printing on fabric in a UNM Honors class, and says that "the way the fabric interacts with the scrolls in the background and with our outfit just feels so right. Printing on the fabric itself is very expensive and additionally requires sewing, so I haven't printed much on it, but when I do it's something with the right intentions." Usually, Hyunju is drawn to capturing more candid moments, but for this piece, she thought about it for a long time before getting her camera out.
As a former managing editor of Scribendi, Hyunju knows that creating the magazine is a ton of work. She says that it's impressive how "everyone comes together to bring it to life in such a short period of time" and that she is looking forward to seeing this year's edition.
We encourage you to look for Hyunju Blemel's piece, "Sam-se-dae Ja-hwa-sang (Three Generations Self-Portrait)" in the 2020 edition of Scribendi. If you want to see more of Hyunju's work, please visit her website at www.hyunjublemel.com.