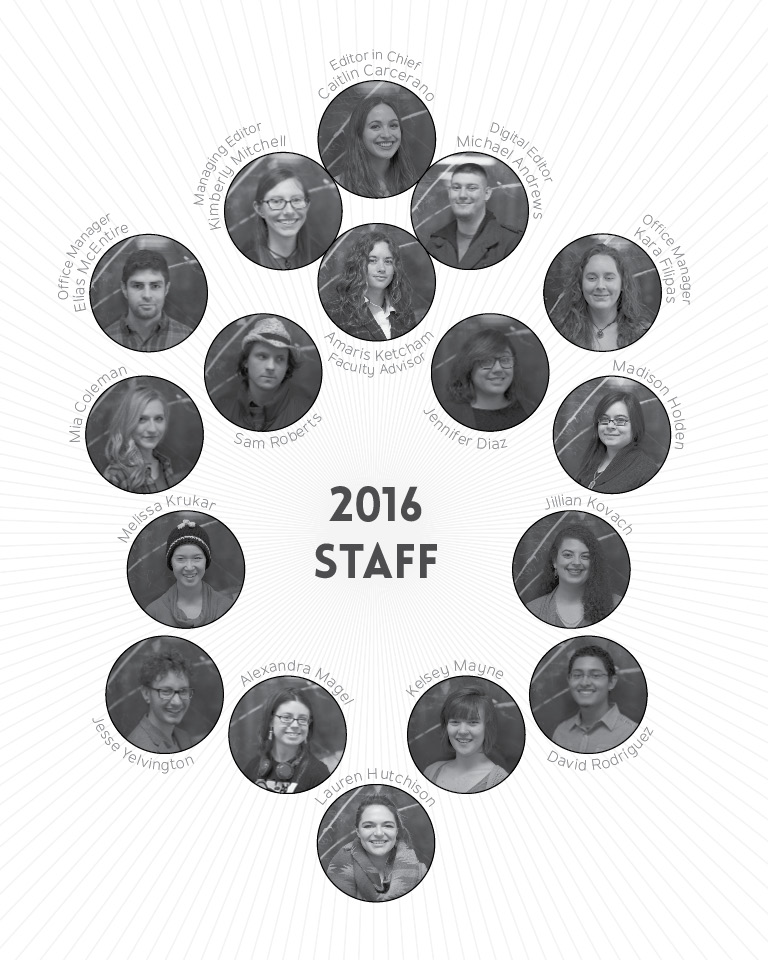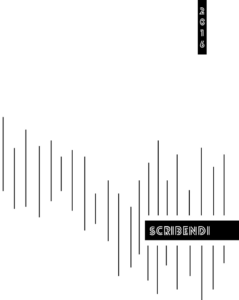 Historical Facts: Scribendi turned 30! Because of this, we also hosted the Honors Alumni Homecoming—what a great party! 
What you'll find in this issue: The 2016 edition features work by 38 contributors from 25 schools. For a minimum $10 donation (to cover the cost of shipping) you can get your own physical copy of this edition of Scribendi here. We have a digital edition available for download here.
Table of Contents
| | | |
| --- | --- | --- |
|  Category |  Contributor Name |  Title of Piece |
|  Creative Nonfiction |  Camilla Allison |  Tender Love |
| |  Krista Reuther |  Unfunny |
| |  Emily Suazon |  Paris, 2013 |
| |  Erika Longino |  The Secret Café |
| |  Tatiana Olivera |  Just Believe |
|  Short Fiction |  Timothy Johnson |  Sidekick |
| |  Diane Chavez |  The Caves |
| |  Adam Kane |  The Ungraspable Ghost, the Easter Pigeon |
| |  Laura White |  Here are All the Flowers |
| |  Adrianne Blackwood |  After the Beep |
|  Poetry |  Emilie Reese |  Milky Way |
| |  Lindsay Lake |  The Moon Views a Dandelion |
| |  Connor McCloskey |  Selenography |
| |  Selina Foster |  Imitations |
| |  Jenica Jessen |  Pyrrhus |
| |  Lisa Maillard |  Sunday/Ave Maria |
| |  Dorothea Rosenblatt |  To Tabitha– |
| |  Jacquelyn Oesterblad |  Feast of the Resurrection/Fruit |
| |  Lisa Maillard |  Lamentation |
|  Visual Art |  Kimberly Schneider |  Barn |
| |  Kimberly Schneider |  Great Horned |
| |  Olivia Comstock |  Body with Tentacles |
| |  Olivia Comstock |  Wooden Head |
| |  Krista Zimmerman |  Worth Protecting |
| |  Aloe Corry |  Appraisal |
| |  Aloe Corry |  Pop |
| |  Tara Talebi-Talghian |  Repair |
| |  Douglas Brandt |  Ironwood |
|  Photography |  Caitlyn Edwards |  Midsummer's Eve |
| |  Lauryn Halver |  Egg on Fork |
| |  Joshua Lane |  Life in Varanasi |
| |  Cathleen Fagundes |  Shell be Beautiful |
| |  Julie Draper |  American Dream |
| |  Lucas Winter |  Forgotten Travels |
| |  Krista Zimmerman |  The Ties that Bind Us |
| |  Emerald Boes |  Never Sleep Again |
| |  Krista Zimmerman |  Oneiric |
| |  Brandon Rusk |  A Scope of Lake Louise |
| |  Isabel Shimanski |  Spectral |
|  Open Media |  Tim Sanchez |  Synonyms |
| |  Leah Bleich |  Bloom |
| |  Tim Sanchez |  Spaghetti Tornado |
| |  Kimberly Schneider |  Wino |
| |  Nico Anjelo de Garriz |  Babyshoes |
|  Foreign Language |  Amanda Munro |  Tormenta |
| |  Shuyan (Annie) Dong |  Fantasy (Novelette) |
Below are our Open Media pieces from this year. Enjoy!
Synonyms
Tim Sanchez
Colorado State University
Many great composers have been inspired by the emotional trial that is death. Incredible pieces of music have been written in an attempt to encapsulate the process of dealing with death. Tim Sanchez has approached his composition, Synonyms, through the classic stages of emotional healing: denial, anger, bargaining, depression, and, finally, acceptance. In his musical representation of this process, he has written five movements entitled "The End," "Blame," "Slipping," "Empty," and "The Beginning." Synonyms is based upon a universal experience of death and recovery, but the musical medium allows every listener to experience specific emotions and memories. 
The range of voices provided by the cello, flute, and piano create a flowing, lucid interaction between light and dark—perfectly mimicking the feelings of sadness and hope brought on by losing someone dear. The up-and-down emotions are represented in a beautiful combination of dynamics and rhythm. The final movement allows the listener to emerge from the fog of low-toned harmonies into a sunny, dream-like state of mind. This skillfully written piece takes the listener through vast fields of desolate harmony and leads them into a utopian land of healing hearts. 
Commentary by Scribendi staff. 
BLOOM
Leah Bleich
University of California, Santa Barbara
BLOOM tells the story of two claymation figures, Gus and Gail, who meet serendipitously and create a new world teeming with life. Using only pieces of morphing clay, the landscape transforms from desolate sand to paradise. As Gus and Gail nurture their romantic connection, the earth around them changes—trees grow leaves, mushrooms spring from the ground, flowers bloom, and grass comes alive. Gail even takes a piece of her fuzzy, white hair to create cotton ball clouds. The sky comes to life in paint splatters, and when Gail and Gus kiss, they become a single entity. BLOOM silently illustrates the joy and lightness that comes from a connection with another person, and how love can physically shape the world around us. 
Commentary by Scribendi staff.
Spaghetti Tornado
Tim Sanchez
Colorado State University
"Spaghetti Tornado" is a chaotic musical progression that stretches the boundaries of electronic composition and the listener's experience. Reminiscent of a classic video game anthem in the beginning, "Spaghetti Tornado" impresses a feeling of joyous victory like one would feel when flying around a bright, vibrant, virtual world. The shift to a more solemn soundscape in the middle of the piece seems to explore some kind of development. Whether it is progression in an underlying story or a metamorphosis of the listener, it is a brief, almost orchestral respite from the energy of the rest of the piece. As it picks back up again, one imagines approaching a "level up" notification and feels that split-second moment of pride before focusing on the matter at hand once again. The explosive end suggests a goal achieved, a treasure uncovered, a damsel rescued—whatever it is that the listener learned they needed to do throughout the course of this musical "write your own adventure" story. 
Tim Sanchez's skillful use of electronic composition and his knowledge of music and its impact on people results in a modern masterpiece that takes the listener through an adventure created by their own experience. The piece represents growth and also destruction, as suggested by the title, but it is ultimately up to the listener to discover what happens next. 
Commentary by Scribendi staff.
Wino
Kimberly Schneider 
University of New Mexico
Wino is an evocative, charming, stop motion film. It was originally requested by musician Val Emmich, who wanted a film to accompany his song "Wino." The piece explores the combination of Emmich's fast-paced lyrics and dark undertones and Schneider's sixteen miniature model people taken from toy train sets. The tiny figurines live in constant companionship with a pair of human hands, whose fingers chase the toys and pick them up. As the story unfolds, the synecdoche of the hands develops into a whole character, depicting a girl whose escape from the world is her imaginary friends—in the form of train set figurines—and wine. The video was created from 2,500 still photographs and took six months to stage, shoot, and edit. Wino questions the perceptions of reality and how each of us chooses to view the world through our own thoughts. 
Commentary by Scribendi staff.
Babyshoes
Nico Anjelo de Garriz
Arizona State University, West Campus
As suggested by the title, this piece is as concise and stimulating as the renowned six-word story (popularity attributed to Ernest Hemingway): "For sale, baby shoes, never worn." Nico Anjelo de Garriz has arranged a haunting melody consisting of four distinct voices. The interwoven violin, piano, cello, and bass clarinet play different parts that interact with and counteract each other to create a musical manifestation of the emotions evoked by the six-word story.
The drifting, soft tune that begins the piece sounds like longing—it is a wish for something that is missing. As the piece continues, we encounter a dissonant moment of chaos inspired by the pain and anger that accompanies the struggle one experiences when working through a tragedy. The return of the soft melody brings the listener back to the feeling of loneliness from the beginning. The emotion of the song "Babyshoes" divests from that of the six-word anecdote, ending with a harmonic promise of hope. Nico Anjelo de Garriz has done an incredible job manipulating musical aspects to mimic the compelling, provocative style of the single sentence story. 
Commentary by Scribendi staff.