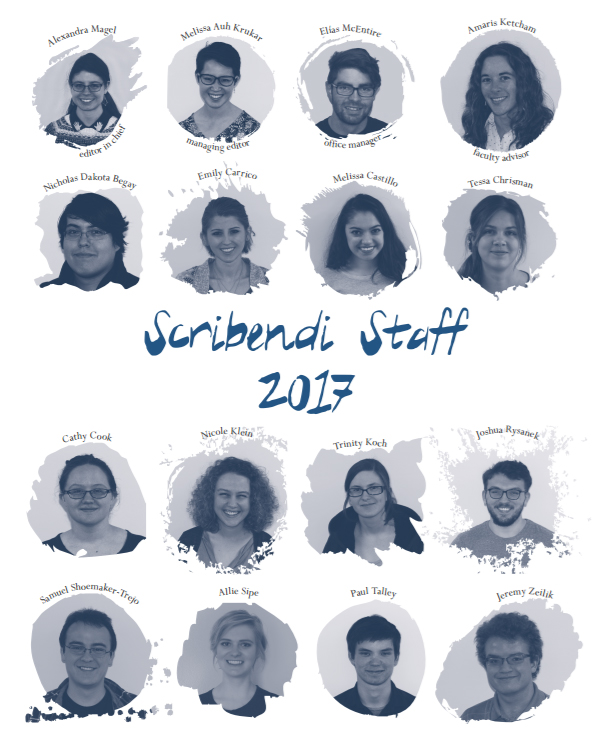 Historical Facts: First year hosting a national exchange student and once again, welcomed work from honors students of NCHC institutions.
What you'll find in this issue: The 2017 edition contains everything from fantastical feminist fiction to passionate pandeiro-playing. This year, we are proud to publish 39 contributors from 21 schools. For only $10, you can order a copy of the print edition to call your very own here. Digital edition coming soon!
Enjoy our open media pieces below!
Contention 3
Tim Sanchez
Colorado State University
"Contention 3" offers an exciting glimpse into the process of a student artist actively creating the work he loves. Self-expression, musical exploration, and performance are rolled into one for a completely unique and engaging experience.
Tim Sanchez plays a pandeiro, a Brazilian frame drum, and accompanies an electronic track written on the Little Big Planet 2 music sequencer. The track guides Sanchez, so he is able to communicate and connect, creating on the spot.
The passion and liveliness of the artist are just as captivating as his technical skill. As we watch Sanchez's enthusiasm and commitment to his work, we are drawn closer to the artist and reminded of the potential for art to be spontaneous, fun, and full of life.
"Contention 3" offers an uplifting performance, one that allows us to experience the joy a student has for his work. And really, what is more rewarding than that?
Zotti–Dsylxesia
Jacob Smith
Westminster College
"Zotti-Dsylxesia" (yes, we know it's misspelled) seeks to answer one central question: Can we find beauty in chaos?
Set in a world of visual and auditory confusion, the short film creates a disconcerting sensory experience, one that borders on discomfort and anxiety—and yet we can't look away. The vivid colors, shapes, and contrasts of both sight and sound pull us into a kaleidoscopic world. In this world, our movements are timed to the hypnotic rises and falls of beats, and the images before our eyes are confusing as much as they are mesmerizing.
Here, the face of the central character is intentionally obscured—his identity, as well as each of our own identities, is unset. Undefined. Colors light his masked face, highlighting the internal disorder of that individual and this world, which we are now a part of.
Watching his journey and experiencing his world, we are forced to look beyond the boundaries and walls of our own minds. We are inspired to enter the beautiful disorder of a new perspective. Puzzling though we may find this unknown character, this elusive story, and this surreal world, we are completely entranced—enough to watch again.
Identity in Contradiction
Joshua Lane, with Douglas Brandt
University of New Mexico
WRHC Award Winner
Many times during our lives, we are told to seize the day, to live fully in the moment, and experience the totality of what life has to offer beyond our normal existence. However, those mindsets can lead to even more frustration and questioning over what we do. Are we doing the most with our lives? Could I be doing more right now? What can I do now to reach that fulfillment?
All of these questions can be paralyzing, and "Identity in Contradiction" tackles that paralysis head on through a multimedia experience. The piece uses video footage, animation, spoken word, and music to create a sense of stress and anxiety sublimated in the process of seizing the day. The artist marks the process of this anxiety with a slowly pulsating line that demarcates his response to the questions asked.
Ultimately, it's difficult to determine the appropriate way to carpe diem. The artist grapples with that difficulty as the piece settles on an introspective and poignant ending.